Flying blind with trainee crew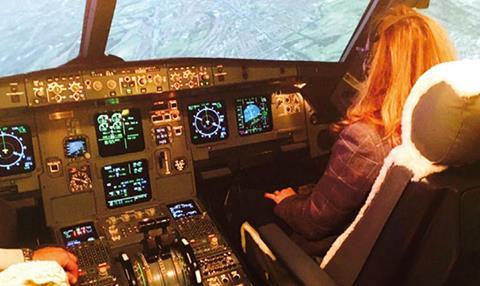 Production company ITN Productions
Commissioner Satmohan Panesar
TX 9pm, 14 and 21 August, ITV
Executive producer Will Smith
Series director David Waterman
Series producer Juliette Murray-Topham
Directors Jonny Ashton; Rachel Harvie; Grace Tierney
Post-production ITN Productions
My Dad told me I had to take this job: "It's fascinating and glamorous, darling."
Like many people, he feels there's a mystique and prestige to flying. The task here was to show what it really takes to become a pilot.
We were granted amazing access by EasyJet and its airline academy L3 – from the classroom all the way through to the final test that pilots face before they take paying passengers up for the first time. Each part of the training process should be something new for viewers.
We filmed cadets trying to land a commercial plane for the first time, having only ever practised in a simulator (with only limited success some of the time). The process involves simply taking off and landing over and over again for an hour.
I told everyone to take travel sickness pills, but one poor researcher was in the loo within half an hour.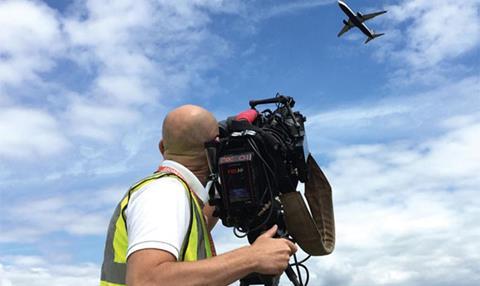 It's not like normal flying – the cadets have never flown before so it's not smooth. It's the Top Gun moment of the commercial training world – on an empty jet filled with excited cadets aged 19-35.
People may argue that pilots now are just bus drivers in the sky – you definitely don't feel that here. Casting-wise, it was a challenge.
By their nature, pilots are single- minded, focused and get the job done. If something goes wrong, they don't panic and simply put it behind them. That's where the strength of the cockpit fixed-rig comes in, as it picks up on the nuances of each pilot.
They forget the cameras are there, but they do also have 160-odd passengers behind them, and they don't ever forget that.
Delayed take-off
The hardest part of the shoot was that we couldn't see what we were filming in the cockpit, so we didn't know what we were getting until a week later. With most rig shows, you can make decisions about the programme as you go along.
But with this, we had a significant delay. We couldn't be in the cockpit – that's the point: the door is closed to the rest of the world.
Another issue with EasyJet flights is that they are short. They have incredibly tight turnarounds – 20 minutes on the ground – so there's no time to talk.
Juliette Murray-Topham, My tricks of the trade
Everyone in the team has a strength. Acknowledge what it is and encourage it. If a researcher is great at
the technicals, get them to do that.
"By failing to prepare, you're preparing to fail." Often you have only one chance to be with a subject, so plan very carefully what you want to get out of them and how - down to remembering to bring a lens cloth and using it.
Go on a shoot with an idea of what you want to cover and if it's not there, be flexible and try to find a different element to change to quickly.
Wear glitter when you can. It's a reminder that this isn't a life-or-death industry.
The first time the EasyJet PR team saw someone cry, they wanted to stop filming. We needed to explain that these were tears of pride and that emotion was key to the show.
Initially, the PR team thought that a story would be easy to come by – "you've had a flight, that's enough".
We explained that time has nothing to do with it. You can have a brilliant story in five minutes or you can wait around for days and get nothing. It was a learning curve for the production team as well, but as we went into the edit, EasyJet didn't veto anything.
Intense process
We're trying to show what it's really like to dedicate yourself to this career. It takes two years to train, but we only had six months to tell that story, so we had to constantly dip into lots of different storylines.
We often had just one opportunity with each individual, which made the two- or three-day filming process with them intense.
We also had only 15 flights, mostly short haul, on which to film, so we really had to make the most of every opportunity.
On one occasion, our director dropped out and only the AP was left to go on a flight. Our series director David Waterman gave her a shot list and stayed in close contact.
Her first broadcast camera gig was 30,000 feet up, filming a flight that was disrupted by a medical emergency involving one of the passengers.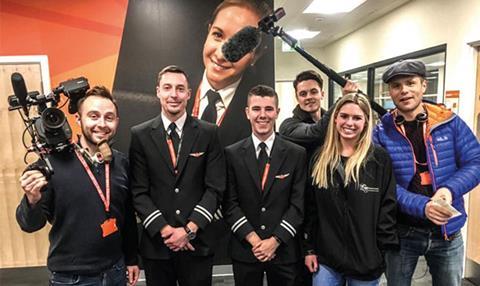 This project has been a mixture of fixed-rig, ob doc, master interview and even user-generated content to bring together all the different elements.
To keep costs down on a long-running shoot, David and I job-shared. If there were days when either one or both of us were not needed, we didn't bill – and we did other work part-time.
I think that's the way that a lot of long-shoot documentaries will go as the budgets aren't there. You don't need to be in the office every day and WhatsApp keeps you in touch. It means you can stretch the production for longer.
Having worked on this show, I think there's something that TV could learn from flying.
The training is gradual – they move on to the next stage when they are ready and you don't get a situation where someone is put on the spot to do something they are not ready for. But for them, perhaps, there's a little bit more at stake – 180 passengers.
Easy does it: Learning on the job
David Waterman, Series director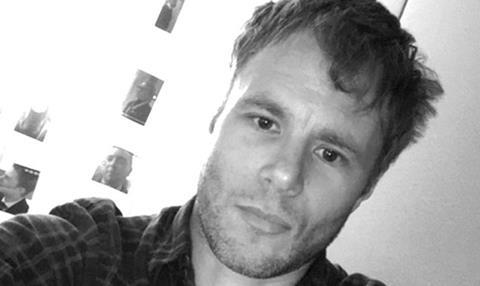 For quite a technical series, we didn't have a specialist team to run the fixed-rig element of the show.
I've worked on First Dates, where if you are part of the editorial team, you do not touch the kit. This time, we had to attach cameras in a cockpit in about 15 minutes.
We had to design a rig with the help of a company that was not with us during filming – and run in and clip the rig onto the front of the cockpit and then line up the cameras to where we thought the pilots would be.
There was an element of trial and error and we had to keep retro-fitting and improving the system as we went along.
Initially, the cameras were going into separate, individual recorders, but then we found a device called an Apollo – a four-way split that we ran all the cameras into.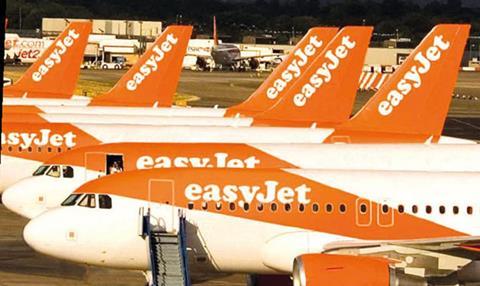 On that one device, we could see all the pictures, but not after we'd left the cockpit, so setting and changing apertures was a lot of fun.
We had to get the audio out of the plane's internal audio system and take a feed out of that. For interference reasons, we couldn't put radio mics on the pilots, so we had to use hardwired ZaxComs.
The captains and cadets often broke them on toilet breaks and would forget to tell us.
There's no substitute for the real thing: when we tested it out in the simulator, the audio worked beautifully – and then, of course, when you get in the air, the sound is completely different. There was a lot of trial and error.
We had to make use of FS7s and PMW200s mainly because the team varied so much in shooting experience and it was felt that a junior AP would probably be safer with a PMW under pressure.
This did work well but, in future, I think pushing for camera training to get everyone comfortable on larger-format cameras would be the way to go.