How Bandicoot got on the front foot in snapping up the Korean format for the UK before it blew up in the US
Production company Bandicoot Scotland (Argonon)
Commissioners Katie Rawcliffe; Joe Mace
Length 8 x 90 minutes
TX ITV, Saturdays and Sundays from 4 January 2020
Executive producers Claire Horton, Derek McLean, Daniel Nettleton
Series editor Marc Bassett
Director Simon Stafforth
Senior edit producer Ben Peart
Production executive Lucy Eagle
Line producer Gemma Whitford
Costumes Plunge Creations; Nicola Atkinson
Talent executives Daisy Moore, Lauren Fleet
Post house The Farm
In summer 2018, months before the American version of The Masked Singer aired, Bandicoot co-founders Derek McLean and Daniel Nettleton were in a race against the clock to secure the Korean format ahead of their indie rivals.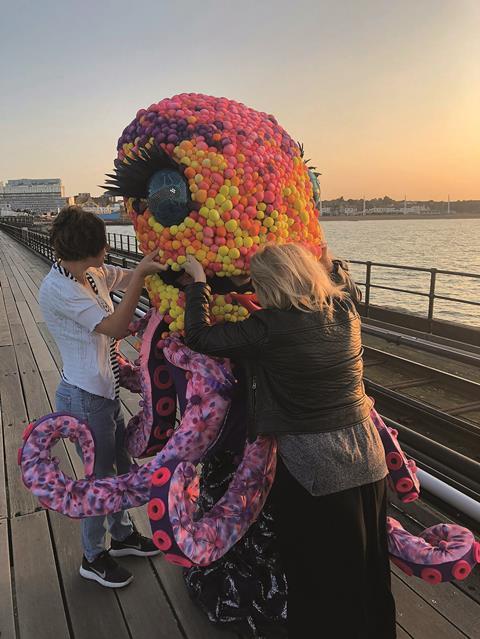 Having recently set up their own Glasgow-based indie, a joint venture with Argonon, the duo had a hunch the show would blow up in the States and could become a valuable piece of IP for their young company.
Fuelled with an interest in Asian TV formats, former BBC entertainment creative director McLean diligently set his alarm for 2am for two weeks until he tracked down the distributor, South Korea's Munwha Broadcasting Corporation.
"When I finally got through to the right person, they said they'd call me back later," recalls McLean. "I said I needed confirmation right away, because I knew when it launched in the US, everyone would be after it."
McLean and Nettleton's hunch proved accurate: upon its launch in January 2019, Fox's version, produced by Endemol Shine North America, became the highest unscripted debut on any US network for seven years, consolidating with a multiplatform audience of 17.6m.
Calling the shots
Broadcasters hitherto unconvinced the UK needed another 'singing show' now sat up and took notice, and Bandicoot found themselves in the driving seat as ITV honed in.
"In many ways, this show was made for us. That is why we decided to take a gamble on it, despite being a new, small company."
Daniel Nettleton, Bandicoot
McLean says the commissioning delay worked in their favour, freeing up the indie to make the big-scale entertainment programme they had envisioned.
"The original Korean format was done with paper masks and it still is," says McLean. "However, we wanted to have a similar look to the American version. ITV was really sensible on that front, giving us the kind of budget where we could pursue the production and talent we wanted."
With the format secured and ITV on board, Nettleton said there was now a halo affect around The Masked Singer that helped to attract some of the UK's top talent.
Defining the show as a guessing game rather than a music competition, Nettleton and McLean's goal was to secure a judging panel of celebrity detectives, rather than repeating the X Factor/Voice coterie of pop experts.
They managed to secure their first-choice panel by bringing on board presenters Jonathan Ross and Davina McCall and singer Rita Ora, with actor/comedian Ken Jeong reprising his role from the US version.
"I travelled to America to see the final record and asked Ken if he would do it and he said yes," says Nettleton.
"He was enthused by how passionate we were about the show and we thought his humour and style would go down well with a British audience. From the get-go, we believed Ken was a crucial part of the show's DNA."
'Bonkers' appeal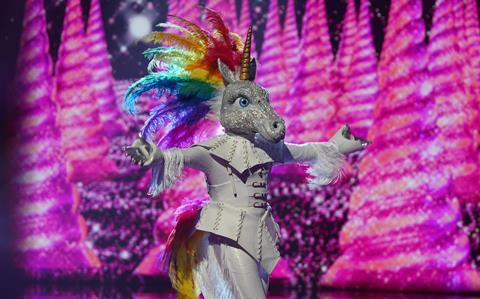 The UK version of The Masked Singer kicks off with a double bill on Saturday 4 January and Sunday 5 January.
In each episode, six different celebrity singers, their identity hidden within elaborate and outlandish costumes, perform in front of a studio audience.
The studio audience whittles the singers down to three after judging their performances, before the celebrity panel decide which singer they will unmask.
With host Joel Dommett ushering celebrities onto the stage dressed in a variety of costumes including a duck, octopus and unicorn, a sense of mischief and light-hearted fun bubbles throughout.
The word the Bandicoot duo use to describe the show is 'bonkers', but rather than associating this term with inconsequential nonsense, they see The Masked Singer as a celebration of joyfulness.
Tricks of the trade
Derek McLean and Daniel Nettleton
Be first to option a massive hit international format

Never underestimate the joy of laughter both on and off screen

Only compromise when all other avenues have been exhausted

Detail, detail, detail

Would our mums like it?
Despite its huge success in America, McLean and Nettleton believe the format is a more natural fit for the UK market as it plays into the nation's interest in dressing up, panel shows and guessing games.
McLean drew on his experience of launching BBC1 panel show Would I Lie To You? to boost the guessing game aspect of the format with additional clues and more substantial VT packages.
Keeping secrets
Whilst many of the filming aspects were enjoyable, McLean and Nettleton are more nervous when talking about the secrecy required for the show to be a success.
"One of the reasons we decided not to film the production in Glasgow is because it would have been near impossible to protect the identity of mega celebrities as they travelled around the city," says McLean.
"There were so many moving parts. We had this expectation to deliver something really massive but at the beginning we were building from nothing"
Daniel Nettleton, Bandicoot
On set, the priority was ensuring the judges and audience remained ignorant of the singers' identity; as the show comes to air, this has now shifted to the worry of leaks occurring before broadcast.
To minimise this risk, Bandicoot reduced the audience to a select pool for each celebrity reveal. Secrecy is also being taken very seriously by the celebrity contestants, with one deciding that their own family would find out about their involvement at the same time as the rest of the nation.
TAKING THE COSTUMES FROM CONCEPTION TO CREATION
Tim Simpson - creative director, Plunge Creations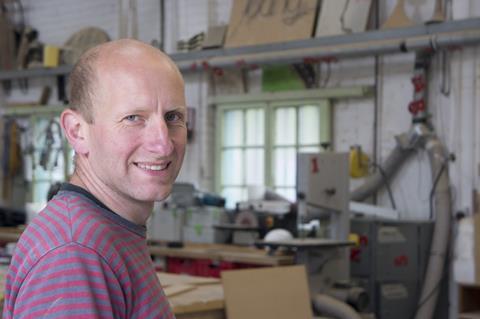 When Bandicoot first came to the Plunge Creations workshops to chat through The Masked Singer, it was clear that this was going to be a brief unlike any other.
We were to design and produce a set of 12 extraordinary masked costumes for a show that had taken Asia and the US by storm – and has since become a sensation in Australia. Bandicoot needed us to make sure we took the idea, upped the ante and gave it a UK twist.
The creative process involved plenty of ideas flying backwards and forwards between us, Bandicoot and costume designer Nicola Atkinson.
Some of the ideas started as a sketch or a mood board and some were just a name. We had been working on a 'Queen Of Hearts' when suddenly 'Queen Bee' popped into our heads. From there, the costume almost designed itself.
In contrast, our massive monster began as a 2cm pencil doodle, inspired by quiet Japanese animé monsters. I recently spotted him on a billboard, nearly 5m tall.
Secrecy was paramount and at no point during the design or making process did we know who would be wearing our costumes. Our amazing makers had to work with sets of measurements, finding models of roughly the same size to try out the costumes and masks as they came together in the workshops.
KEEPING THEM GUESSING
Our team included 45 talented makers from a range of costume and prop-making disciplines. In total, we clocked up nearly 5,000 hours on the full set of costumes.
There were plenty of challenges, not least that of making a dramatic mask that is both striking and can work for the performer. In addition, the need to keep the performers totally disguised meant we had to hide every scrap of skin and even disguise body shapes to keep the audience guessing.
I was lucky enough to see some of the costumes on set, being brought to life by the performers. Bandicoot's production team had pulled out all the stops and when I got a sneak preview of some of the first edit, I was blown away. What a great experience.
Juggling the schedules of so many celebrities provided a logistical challenge, says Nettleton.
"There were so many moving parts," says Nettleton. "We had this expectation to deliver something really massive but at the beginning we were building from nothing, and it is hard to confirm anything with such high-level celebrities so it involved a lot of positivity and encouragement."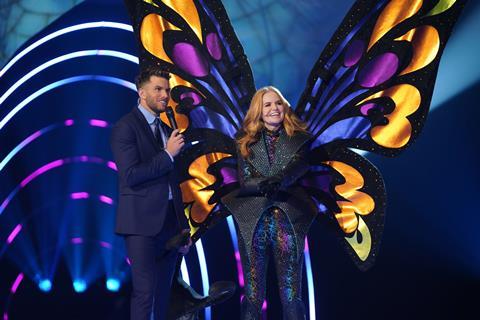 At the 2019 Edinburgh TV Festival, ITV's director of television Kevin Lygo joked that the main challenge of the show was to feature celebrities the public would recognise when the mask came off.
So far, EastEnders star Patsy Palmer, former Labour government minister Alan Johnson and The Darkness singer Justin Hawkins have been revealed, and the Bandicoot team are bullish about the calibre of the upcoming celebrities, noting there will "international stars" in the mix too.
Costumes
Bandicoot worked with costume designer Plunge Creations over a year to create original flamboyant designs for the UK show. Plunge needed to bring on extra staff to cope with the workload and Nettleton says the Brighton-based company proved a fantastic one-stop shop.
Nettleton was particularly at ease with the costume element of the show after spending years putting contestants in silly get-ups for Big Brother and devising memorable challenges for I'm A Celebrity… Get Me Out Of Here!.
"In many ways, this show was made for us," he says. "That is why we decided to take a gamble on it, despite being a new, small company.".
"Someone from Channel 4 recently told me they couldn't imagine anything more disruptive to mainstream TV than this"
Derek McClean, Bandicoot
It looks like that gamble might be about to pay off with Bandicoot already receiving several offers from international broadcasters for the show, as well as English-language SVoDs.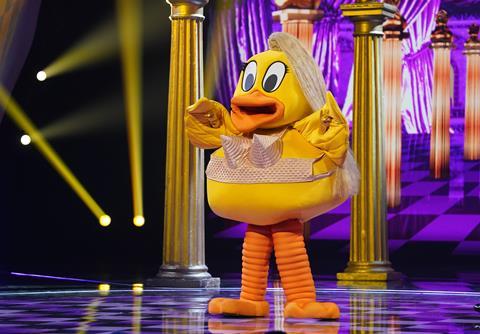 "It is such a familiar name now and there are some territories that can't get enough of it," says Nettleton.
With previous ratings successes in Korea, Thailand, America, Australia and Germany, The Masked Singer is not a new format, but McLean believes it could be one that leaves a mark on the UK entertainment genre.
"Someone from Channel 4 recently told me they couldn't imagine anything more disruptive to mainstream TV," he says.
"That is exactly what we want to hear. It could be an amazing calling card for our company and lead the way for madder ideas."
The Masked Singer: the view from the talent
Jonathan Ross
"Anyone in TV will be kicking themselves not to have a format as strong as this. Like The Voice, it is a great idea for a show. If you saw it written down on paper, you wouldn't necessarily think it would work – but with these costumes, the setting, the clues – it is a lot of fun. It is such a big family show and perfect for this time of year."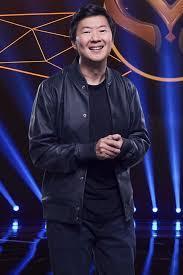 Ken Jeong
"It is a simple format, but the sum is greater than its parts. Anyone who hires me in general is an out-of-the-box thinker and Bandicoot had a vision of having me on the UK show before the American version even aired. On the panel I play the enlightened idiot, but it was surprising how many of the celebrities I did know."
Davina McCall
"As soon as I heard about the format, I wanted to do the show. The first person I heard confirmed was Ken and I thought 'yep this is a no brainer.' The show in America is all about Ken and he brings such flavour to the panel – he is so funny."
Joel Dommett
"Part of the reason we enjoyed working on the show so much is because we became totally immersed in the format. The crew were so excited about who the celebrities could be, and this meant the format continued after the cameras stopped rolling."