London's Sky Garden played host to high-profile sports stars for Vodafone's 5G launch event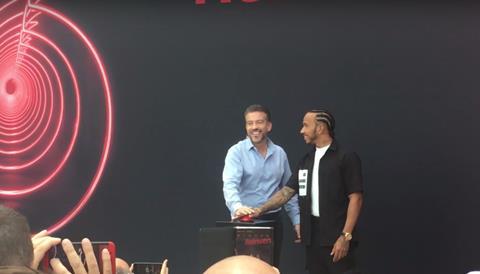 Vodafone pulled out all the stops for its 5G launch earlier this week, first welcoming on stage Wasps centre Juan de Jongh for a taptic tech demo, before surprising everyone with Lewis Hamilton taking the stage to talk tech, gaming and 5G with Vodafone CEO Nick Jeffery.
The event was memorable too for Vodafone revealing new unlimited packages that lift the limit on data usage, enabling 5G users to really take advantage of its high-speed download and streaming. Vodafone says its 5G network will be 10 times faster than 4G, reduce latency to less than 10 milliseconds and dramatically enhance live VR and online gaming experiences.
Jeffery said: "We've invested £4.5bn in our infrastructure to build the UK's 'strongest' network and are excited about 5G and how it will spur innovation. 5G will transform the way we live and work. Our customers are streaming over 50% more content today than they did last year, and with 5G the demand for data is only set to increase.
"That is why we want to remove the limits on data, so customers can unlock the full potential of 5G, and we can really propel the UK into the digital age. We will give customers all the data they need, when and where they want it."
Vodafone is launching its 5G service initially in seven UK cities, and will also enable roaming in 5G in a total of 27 cities, in Spain, Italy and Germany. It's the first UK telco to provide this and is also promising 5G at 4G prices.
At the Sky Garden, London, Vodafone focused much of the showbiz side of the launch on sports. This included the world's first demonstration of the power of 5G to transmit touch using haptic technology, which is where Juan de Jongh came in (see below).
He stood on stage wearing a specially developed haptic Teslasuit while his teammate, Wasps second row forward Will Rowlands was more than 100 miles away in Coventry. Rowlands made a huge tackle on a tackle bag in Coventry and the force of the tackle was felt in real-time by de Jongh in London.
Some of the practical applications of the technology are in remote sports and emergency personnel training.
Lewis Hamilton was introduced to the stage towards the end of the event, to a somewhat stunned audience. He talked about his love of gaming and how he always travels with a gaming system. He likes to play Call of Duty but (half-jokingly) blamed some of times he's been killed before on latency issues. The latency-reducing benefits of 5G mean he won't be able to come up with that excuse any longer.
Hamilton stayed on stage to press a big red button that apparently turned on Vodafone's 5G network (see below), and will now act as a 5G ambassador for Vodafone, "helping to bring to life the potential of 5G to be a real game-changer," says the company.
5G smartphones are available to buy now, with Vodafone's customers able to choose from two 5G smartphones, the Xiaomi Mi Mix 3 smartphone and the Samsung S10 5G.
Vodafone Unlimited
Three unlimited data plans will be available on Vodafone:
• Vodafone Unlimited Max: £30 per month, it gives unlimited mobile access at speeds as fast as the device and the network will allow, including 5G access
• Vodafone Unlimited: £26 per month and offering speeds of up to 10 Mbps, without worrying about their data usage.
• Vodafone Unlimited Lite: £23 per month and offers speeds of up to 2 Mbps, with unlimited data usage.