NEP has acquired the Screen Scene Group, including the company's OBStv operation and its Dublin-based divisions.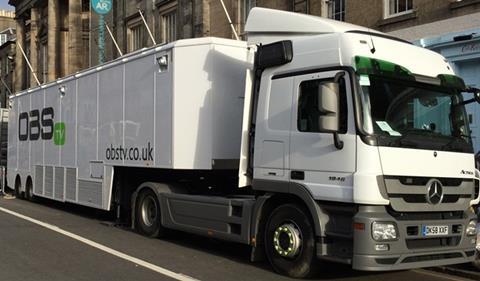 The Screen Scene Group includes Observe, which is an outside broadcast business, as well as satellite uplink company Digital Space.
Screen Scene is a 50-suite post-production and VFX facility.
OBStv (pictured) is a Slough-based OB operation that has worked on the Heineken Cup, Six Nations and the Women's FA Cup Final.
All four businesses will operate as separate entities and their current management teams will remain. They will report to NEP UK and Ireland president Steve Jenkins.
US-headquartered outside broadcast giant NEP acquired Screen Scene from owners Jim Duggan and Alan Burns for an undisclosed amount.
NEP said the deal would extend its reach into Ireland while adding extensive post and VFX capabilities as well as satellite uplink and IP services to its portfolio.
"The Screen Scene Group is an excellent company, with a fantastic leadership team," said NEP chief executive Kevin Rabbitt (pictured).
"They have a great depth of knowledge in their group across all of their businesses. I am excited to work with them to continue to grow the business.
"Not only do we have great confidence in the Screen Scene group and its directors Alan Burns, Jim Duggan, Jake Walshe, Hubert Montag and Mura O'Byrne, we also have confidence in what we see as the tremendous growth potential in Ireland and Europe."
Founder Alan Burns said: "The Group is 30 years old this year and Jim Duggan and I have seen it grow from three people to over 90, with knowledge of every aspect of the industry.
"We are excited to work with NEP to continue to grow the business and see where we go over the next 30 years."
Co-founder Duggan added: "This will be a fantastic transition for Screen Scene clients and staff.
"NEP will be able to offer us a much deeper pool of resources to support the expansion of our business as Ireland continues to grow stronger as a centre for TV and film production."