David Benioff and DB Weiss 'regretfully' step away from film franchise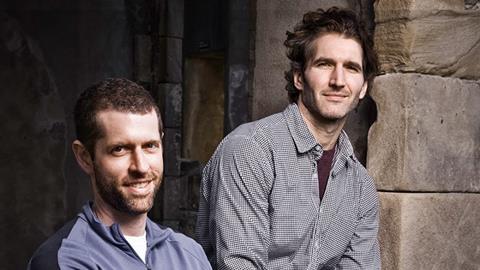 Game of Thrones creators David Benioff and DB Weiss have dropped out of plans to make a trilogy of Star Wars films, citing their busy schedule after signing a nine-figure deal with Netflix.
"There are only so many hours in the day, and we felt we could not do justice to both Star Wars and our Netflix projects, so we are regretfully stepping away," they said in a statement to Deadline.
Benioff and Weiss signed up to write and produce a trilogy of Star Wars films set outside the Skywalker saga in February, with the first installment due in 2022.
In August however the duo signed a multi-year deal with Netflix, estimated at around $200m, which will see them write, produce and direct new TV series and features exclusively for the streaming giant.
Lucasfilm president Kathleen Kennedy said: "David Benioff and Dan Weiss are incredible storytellers. We hope to include them in the journey forward when they are able to step away from their busy schedule to focus on Star Wars."
Other Star Wars film projects in the works include a separate feature trilogy written and directed by Rian Johnson and a standalone feature produced by Marvel Studios president Kevin Feige.
On the TV side, upcoming projects include John Favreau's The Mandalorian, as a well as live-action series' based on Cassian Andor and Obi-Wan Kenobi, all for Disney+.