Ampere Analysis expects rival services to become increasingly popular, as SVoD giant reports Q2 results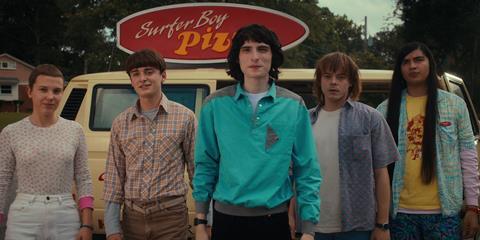 Netflix's content strategy is under scrutiny as it reveals the extent of its Q2 subscriber losses, with Ampere Analysis predicting customers could churn to Apple TV+.
Netflix lost 970,000 members in the second quarter, having forecast it will shed 2m customers globally and Ampere believes Apple TV+ and new entrant Paramount+ are best placed to pick up customer who switch to another service within 60 days.
Apple TV+ has already gained ground in the UK, with Barb data showing its presence in homes was up over a quarter (27%) in Q1 2022. Research by Kantar earlier this year, underscored industry observers' views that Apple's preference for a smaller collection of high-profile tentpole originals over a big library of shows is paying dividends.
Apple TV+ has 78 original series out of a total of 129 series and films – according to content page on the streamer's media site. In comparison, Netflix's US catalogue alone has over 3,700 original-branded TV series and films.
Volume has always been important for Netflix but according to Ampere data the streamer dramatically reduced its number of North American originals in H1 2022, down 36% from 2021's 88 to 56. That level is also down 33% on 2019's pre-pandemic level of 84.
Though this is partly due to a cutback in film commissions, original series were cut by around a fifth in the territory.
Also down are the number of English-language titles, dropping a fifth from the 104 in H1 2021 to 84 in H1 2022, and 16% from 2019's 100.
Bela Bajaria, Netflix's head of global TV, said at last month's Banff World Media Festival the streamer was not going to undergo a "radical shift in our business" or stop spending big money on titles.
However, she did acknowledge that the business would slow and the SVoD giant is "going back to basics" to pick out tentpole titles.
"When we make a great show, like Stranger Things, people watch it, they talk about it," she said.
Netflix places bets on global over US
An Apple TV+ and BBC-style 'fewer, bigger, better' strategy within its English-language/North America commissioning heartland appears to be part of Netflix's strategy, according to Ampere research manager Fred Black.
"While anything lower than Netflix's predicted 2m subscriber loss would be a success, I would say that the brunt of subscriber losses being borne by North America and potentially Latin America would suit Netflix's commissioning strategy," he told Broadcast.
Black noted that commissions in Central and Easter Europe and Western Europe have increased by 50% (18 to 27) and 18% (49 to 58), respectively, from H1 2021 to H1 2022, indicating that local-language international territories are where the Netflix can regain ground.
"Any subscriber growth – in particular in Europe, Asia and Africa – would illustrate that Netflix is investing in the correct avenues for future growth," he added.
In its Q1 letter to shareholders, Netflix co-chief execs Reed Hastings and Ted Sarandos affirmed that "over the longer term, much of our growth will come from outside the US".
But Black warned Netflix's position may not change quickly.
"Commissioning strategies take time to bear fruit; you have to produce the content first," he said. "If the predictions turn out to have been optimistic, the lag time between commissioning in growth territories and the content landing and driving new subscribers, could prove pretty stressful."