Highly realistic 3D avatars of golfers are enabling Sky Sports to ramp up its on-screen performance analysis at The Open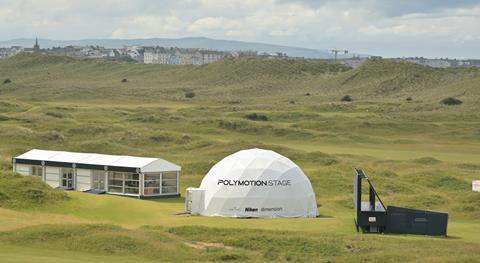 Sky Sports has created highly realistic 3D avatars of some of the world's best-known golfers for its coverage of The 148th Open at Portrush.
The golfers were filmed doing a golf swing inside a just-completed mobile 'volumetric capture studio' on location at Portrush (pictured above). Sky Sports is the first broadcaster to make use of the 'pop up' Polymotion Stage, which looks like a huge white dome.
The dome houses 106 cameras attached to a large circular rig (see film below). Golfers including Rory McIlroy, Dustin Johnson and John Rahm performed their swings in the middle of the stage, surrounded by the cameras, which are a mix of video and infra-red models. Each golfer spent around 10-minutes inside the dome.
The combination of video and infra-red cameras captures depth information, from which a wireframe of the golfer is created. A volumetric mesh applied on top of this gives the 3D model a high degree of realism, which is completed by the final layer – a photo-real texture – to create the lifelike 3D avatar.
These 'virtual human' avatars took around two-days to complete and are now being used by Sky in a feature called 'Sky Scope' (in the Sky Sports Open Zone Studio), during which the digital replicas of the golfers perform their swing.
While the avatars are in action, the Sky Sports team can track, pause and analyse every aspect of their swing. They can spin 360-degrees around the digital golfer to pinpoint exactly what gives each one their edge, from never-before-seen angles.
The Polymotion Stage was made by Nikon's Mark Roberts Motion Control (MRMC) wing in collaboration with volumetric capture specialist Dimension, which runs on-prem volumetric capture studios in Wimbledon and Newcastle.
Jeremy Silver, CEO of Digital Catapult, which is one of the partner companies in Dimension, said: "This technology is now transforming the way that we broadcast sporting events, enabling unprecedented levels of visualisation and analysis. This is a pivotal moment for sports broadcasting - but only hints at the potential of immersive technologies in wider entertainment."
Jason Wessely, head of golf at Sky Sports added: "We're always looking at how we can use innovative technology to bring golf fans closer to the action. The technology that MRMC have provided will allow us to analyse the golf swings of the world's best players in a way that hasn't been possible before."