Ellen is a touching, brutal and unforgettable rendering of the life of an isolated and vulnerable 14-year-old girl. In the words of one judge, it was "an extraordinary, beautifully written, directed and performed film that haunted me for days".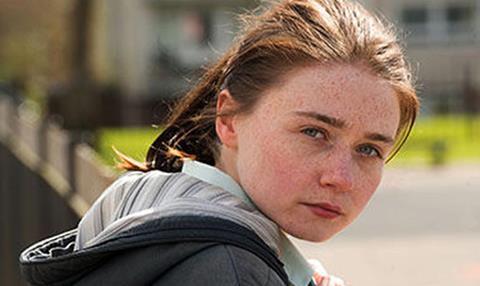 Touchpaper Television for Channel 4
Actress Sarah Quintrell's hard-hitting debut screenplay was developed for C4 through the Coming Up new-talent scheme and was produced by an almost entirely female crew of first-timers.
The 90-minute film was a debut for its director of photography, editor, production designer and casting director, as well as on-screen talent Yasmin Monet Prince, who played Ellen's best friend, Kayla.
Ellen is the prescient story of a tough teenager trying to take control of her chaotic life while being forced to grow up too quickly.
Her dad is absent, while her mum, played by Jaime Winstone, is oblivious to her. With no adult role models to turn to, she befriends Kayla, but later finds herself torn when she meets older and cooler Jason.
One judge praised Jessica Barden's "mesmeric central performance of a beautiful and painful script", which was "spectacularly directed" by Mahalia Belo. Another described the film as "spellbinding" and said it "stays with you and leaves you concerned about our society".
"An arresting, subtle and heart-breaking film about modern Britain," said another, with particular reference to the "exquisite performances" and the lingering memory of its sometimes difficult messages.
SHORTLIST
THE GO BETWEEN
BBC Studios for BBC One
The judges were blown away by the production values of this BBC Studios adaptation of LP Hartley's 1953 novel. The journey through a dream-like landscape, evoking a young boy's awakening into the secrets of the adult world and the dangerous game that the lovers play, was a close contender for the top prize.
A MIDSUMMER NIGHT'S DREAM
BBC Studios Wales for BBC One
Russell T Davies' bold and original modern retelling of one of Shakespeare's best-known stories had a "verve and fizz about it", said one judge. An eclectic cast including Matt Lucas, Richard Wilson and Bernard Cribbins, Maxine Peake and Nonso Anozie breathed fresh life into Shakespeare's masterpiece.
Jimmy McGovern's typically impassioned film was based on the true story of Reg Keys, the father of a royal military policeman, who took on the prime minister over Britain's participation in the Iraq War. One judge said the drama "had a documentary punch to it that was brilliant".
SHERLOCK: THE ABOMINABLE BRIDE
Hartswood Films and Masterpiece for BBC One
Described as a "baroque masterpiece" by one judge, writers Steven Moffat and Mark Gatiss dispensed with the 21st century for this one-off, whisking Sherlock back to a mysterious Victorian setting. It was the most-watched show over the 2015 festive period, eclipsing EastEnders, Downton Abbey and The Queen's Speech.
THE WATCHMAN
Minnow Films for Channel 4
Documentary-maker Dave Nath turned his hand to drama with winning results in this tale of a CCTV operator pulled into a nightmare of his own making over the course of a single shift. Through his relationship with his family, the audience discover that Carl's flaws run deep and he has become intoxicated by the power of his job.