Joining the cause for a labour of love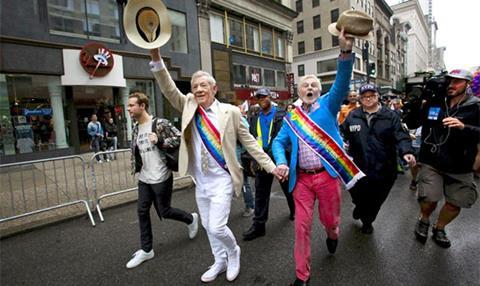 Production company SEIS Creative
Commissioner Jack Oliver
Length 1 x 85 minutes
TX 27 July, Sky Arts
Executive producers Marcus Searancke; David Rogers
Producers Duncan and Nick Napier-Bell
Director Simon Napier-Bell
He's the impresario who managed bands from the Yardbirds to Wham! and lifted the lid on the music business in his book Black Vinyl White Powder. But in his mid-70s, Simon Napier-Bell has returned to his first love: film.
The son of a documentary director, he was operating the clapper board and fetching lunchtime beers for the crew at the age of 10.
Yet aside from the odd music video and short film, it wasn't until 2014 that he made a full-length film, To Be Frank, which marked the 100th anniversary of Frank Sinatra's birth.
His latest film, his third feature, is a more personal one.
For Sky Arts' 50 Years Legal – his celebration of the half century since homosexuality was partially decriminalised in the UK – he has thumbed through his considerable entertainment contacts book to coax personal stories from gay celebrities. There was, he discovered, an unconscious motive in pursuing the subject.
As a self-described "lazy gay", born to a tolerant family and working in the protective bubble of the entertainment business all his adult life, he has never felt the need to be politically active.
"Perhaps I felt a little guilty about reaping the benefits without ever having joined the cause," he says. "The film became me joining the cause and doing my bit, even if a little belatedly."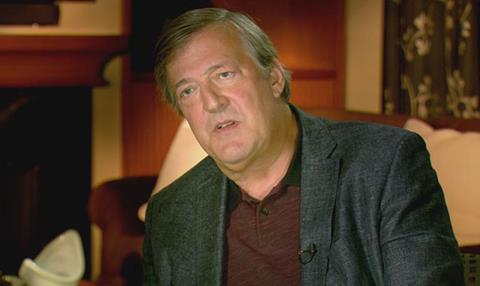 During the course of the interviews, people he thought he knew well revealed themselves to be "very proactive in pushing through gay rights", he says.
With a lot of ground to cover, Napier-Bell's plan was to peg the interviews on artistic, social and political milestones of the past half-century, from the first Gay Pride march to the outbreak of Aids and Margaret Thatcher's introduction of the controversial Clause 28.
The celebrity angle was not the initial plan; presuming it would be easy to find 'ordinary' people, he went first to some of his showbiz pals, who might take a bit of time to assemble. Once their stories came tumbling out, however, he quickly gathered an embarrassment of riches and the non-celebrity part was dropped.
Not that he got an immediate response. Approaches were met first with emails that read: 'I would love to but I'm afraid…'.
"As a hardened old rock manager, I don't give up easily and I went back to them all again with alternative dates, times and places," he recalls.
Compelling stories
Broadcaster Paul Gambaccini and MP and journalist Matthew Parris were secured on his third attempt, and before he knew it, he had 31 contributors.
"Once we got them, there was no problem getting people to open up," Napier-Bell says. "Most, despite being on camera, told all – quite shockingly, in some cases.
"Musician and DJ Tom Robinson's story was so compelling, it was almost worth a two-hour programme in itself – as were the stories of Justin Fashanu, the only Premier League footballer to come out, and Lee Tracey, a drag entertainer put through horrific treatment in the 1950s intended to 'cure' homosexuals of their gayness."
The director was mindful that the film had room for some younger faces beyond the household names at its core. YouTube star and Sikh gay rights activist Majinder Singh Siddhu features alongside trans stars Shon Faye, Paris Lees and Jake Graf.
The volume of anecdotes prompted a rethink of the storyline. By this point, a film full of reactions to a timeline of events would, he reckoned, last more than four hours.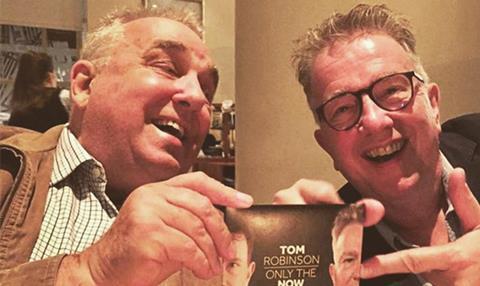 "It had to be a compressed and tense story of the fight for equal rights as it took place during the past 50 years," he says.
"It was, if you like, Peter Tatchell's campaigning story, yet we put no more of him in the film than anyone else. We took 40 hours of fabulously chatty, anecdote-filled interviews and cut them down to just 85 minutes – a sharp, concise, highly entertaining, though sometimes shocking, story of the fight for equal rights in all things."
To allow these stories to breathe, talking heads dominate, shot in a large room in Digital Media Rental's building on Soho's Berners Street and the Escargot restaurant just down the road in Greek Street.
But to really come alive, the film needed music and archive. Robinson agreed the use of songs from his latest album, with extra string arrangements, to score the film, but his iconic 1970s anthem Glad To Be Gay commanded a sync fee beyond the film's budget.
Salvation came when Kinks frontman Ray Davies, whose company owns the rights, agreed to allow it to be used on the same terms as Robinson's record company BMG.
It was less plain sailing with David Hockney. After being interviewed for the doc, the artist agreed to provide stills of three of his pictures and told his administration company to send through a contract at negligible cost.
"Unfortunately, the contract was one the admin company used for lending pictures to galleries," recalls Napier-Bell. "It simply didn't make sense in terms of a film production.
"Our film investment company couldn't accept the wording as it stood, and Hockney's American lawyers were not prepared to rewrite it – or, at least, not for the nominal fee we would be paying for the pictures."
This left the producers with what he describes as "an absurd impasse".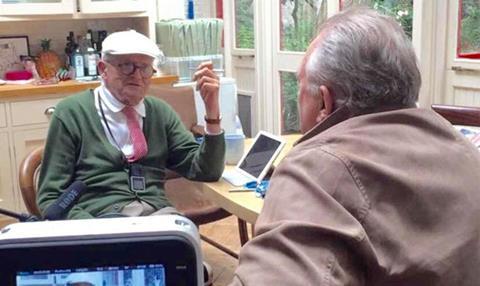 "The admin company didn't have a contract for film usage, and when we sent them one it needed clearing by their US lawyers, which would cost 10 times what we were paying for the use of the pictures. Both sides wanted to co-operate, but were unable to do so without a hefty lawyer's bill."
Viewers won't be seeing Hockney's pictures in the film. "But he still gave us a lovely interview," smiles Napier-Bell.
The director was also confronted with a hefty library charge for the use of two seconds of newsreel material of Sir John Wolfenden, propounding on his famous report, which laid the foundation for the change of law.
"The film budget was closed, the film was meant to be finished, but I just couldn't bear not to see those two shots in the film," he says.
"It was hand in pocket time and I paid it myself; not the only thing, I admit, that I had to fund in the making of the film. But it was that sort of project: a professional piece of work, but a labour of love too."