The £14m expansion of Space Studios Manchester may not yet be complete but discussions about further extending the studio complex are already under way, Broadcast has learned.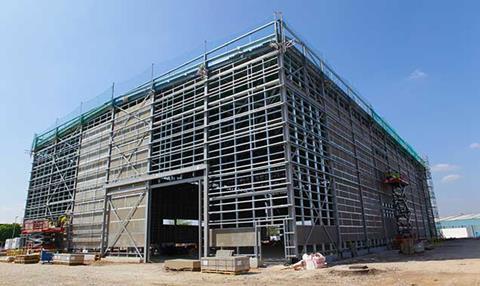 In the week that the Manchester City Council-backed production facility (previously known as The Space Project) was re-named, it has emerged that the additional 30,000 sq ft sound stage and 40,000 sq ft of business units currently under construction may not be the only new additions.
Adrian Bleasdale, chief executive of Manchester Creative Digital Assets (MCDA), the company that runs Space Studios Manchester, said: "This is phase two of the development but we want to grow. We're already talking about what phase three might look like. Currently, it's initial thoughts around building on the local eco-system and getting more supply chain businesses around us. If the level of demand continues, we've got space to build more."
Bleasdale, a former ITV special projects director who oversaw Coronation Street's move from Quay Street to Trafford, also revealed that a first booking for the new stage with an overseas production company is all but done and that all of the new business units have already been let to facilities companies.
Although he wouldn't name them, two large camera and lighting rental firms are among the unit tenants.
Purpose built
Opened in 2014, the purpose-built facility currently consists of five sound stages ranging from 9,000 sq ft to 11,000 sq ft, plus production offices, dressing rooms and workshops. This week, it is being used by Big Talk to shoot Cold Feet and by Fifty Fathoms and Keshet UK for The A Word. ITV also uses the complex for overspill work for Coronation Street.
In March last year, Manchester City Council approved a £14m investment package to enable an expansion that includes the new 40ft high acoustically-treated sound stage (pictured). Planning permission was granted in October 2016.
Bleasdale expects the new stage to attract larger domestic high-end TV drama productions, plus commercials and features. International productions will also be courted but they are not "crucial" to the business plan, he said. It is due to open before the end of 2017.
Discussing the new name, he said that Space Studios Manchester helps to "place where it is" and "what it does", but also "indicates a step change of where the business is" in its evolution.
He added, "Manchester has a really strong heritage in drama production. But it became a little diluted in the early 2000s. By having Space Studios Manchester and the business units on site is a real focal point for production, both nationally and internationally. It places Manchester back on the map as a really credible place to come and make large-scale productions."
The expansion at Space Studios Manchester is expected to create 275 jobs and boost the local economy by nearly £10m a year.