First productions return to BBC Studioworks' studios at Television Centre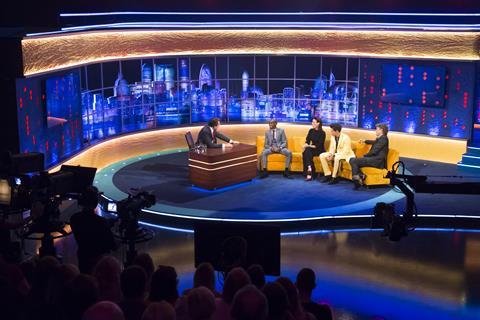 BBC Studioworks, the studios and post-production focused subsidiary of the BBC, has opened three studios (TC1, TC2 and TC3) at the BBC Television Centre site in West London. The studios are in addition to BBC Studioworks range of studio spaces at Elstree Studios and BBC Elstree.
The first show to be recorded at its flagship studio at Television Centre – TC1 – is ITV1's The Jonathan Ross Show (pictured above), which was filmed on Wednesday evening.
"Whilst some may get nostalgic about the re-opening, this really is a new Television Centre, set up for the future with leading-edge technologies, flexible facilities and a fantastic team running it"

David Conway, managing director at BBC Studioworks
The whole of what was the original BBC Television Centre site is currently undergoing major redevelopment work, and BBC Studioworks is one of the first facilities to open at the new-look Centre.
It has opened three "state-of-the-art" studios as well as post production facilities on the site. Once finished, the new Television Centre will also house a Soho House club and hotel, a gym and spa, restaurants and bars, as well as a boutique cinema.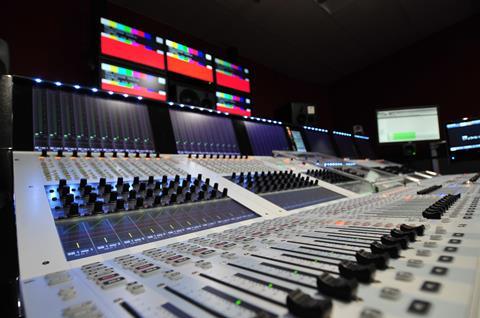 Quick Facts
The studios range in size: TC1 10,800 sq ft / TC2 3,430 sq ft / TC3 8,000 sq ft.
For cameras, visions mixers and monitors, Studioworks utilised Sony's 'open standards' approach to integrate 4K IP solutions with existing HD facilities.
Sony studio cameras, including HDC-4300's, XVS switchers and more than 200 monitors, including OLED screens, will be installed across the three TV studios.
Television Centre's audio and video routing required futureproofing to support 1080p50, as well as UHD1 and other HDR formats, and also support emerging IP standards.
The new sound galleries at Television Centre will be fitted with large-scale Studer audio processing solutions. Large-scale mixing consoles for broadcast, including a Studer Vista X, Studer Infinity Core and Studer Glacier, will act as the backbone to BBC Studioworks' audio set-up.
BBC Studioworks has a number of productions booked into the studios, including BBC1's quiz show, Pointless, and the Strictly Come Dancing companion show, It Takes Two, and Sky's new The Russell Howard Hour.
Next year, TC2 and TC3 will also be the temporary home for ITV Studios' Good Morning Britain, Lorraine, This Morning and Loose Women, during the redevelopment of ITV's London HQ.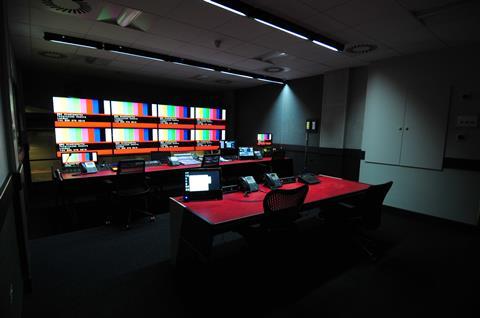 Across the three studios, Television Centre provides around 22,000 sq ft. of shooting space and post facilities along with technical and support areas. The studios include 4K studio cameras and the latest gallery control desks.