The company successfully pitched its gamification of live sports ideas to a panel of judges at BT Sport Studio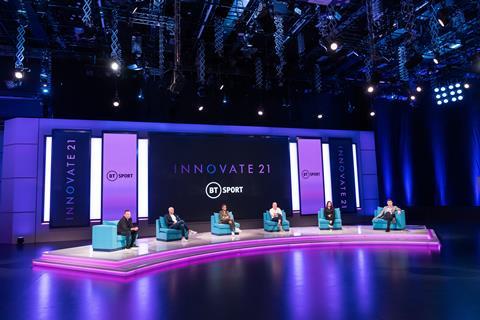 AriSports has won BT Sport's Innovate 21 competition after successfully pitching its gaming concept to the judging panel at BT Sport Studios. The company will now be given the opportunity to work with BT Sport to further develop its ideas for potential future rollout on the BT Sport app.
Innovate 21 is the third of BT Sport's competitions searching for new sports broadcast experiences from entrepreneurs, creatives and start-ups. Broadcast Sport was invited along to the finals of the event, which were held at BT Sport Studios on 21 September.
AriSports impressed the judges with its digital prediction platform that enables football fans to predict on-pitch events, earning points in the process and competing against friends.
The platform, which was devised and developed by brothers, co-founders Rassim and Djewed Hariz, includes a fantasy trading element, where fans can collect and own unique digital cards of their favourite football players. The cards increase in value, depending on the player's real-life performances and correct predictions from the owner of the card.
AriSports works by taking BT Sport's Manager Mode and Hype Mode and gamifying it, adding a 'Gaming Mode' to the Match Day Experiences section of the BT Sport app. In advance of the match, you choose two players and during the match you then predict the different moves they will make, selecting from options shown on screen by AriSports. During the company's pitch during Innovate 21, Rassim Hariz gave the judges phones to try out a live demo of the platform.
The system uses data from Opta and AI to compare the predicted move against the real move. If you predict the move correctly, it improves the stats of the digital card of your player.
Previous winners of BT Sport's innovation searches including Sceenic, who won in 2018 and has since worked with BT Sport to support last year's launch of Watch Together service on the BT Sport app. Meanwhile, the winner of a 2016 BT competition, Seenit, enabled fans to send in video reports from stadia around the country as part of BT Sport's Premier League Tonight show.
BT Sport received more than 70 entries to Innovate 21 and shortlisted four, which were each given 30-minutes to pitch to the panel of judges at a special event held at BT Sport Studios. The judges were Jamie Hindhaugh, chief operating officer, BT Sport; journalist and technology expert Lucy Hedges; Matt Stagg, BT Sport director of mobile strategy; and BT Sport presenters Brian O'Driscoll, Suzi Perry and Robbie Savage.
The first presentation was from Sport VX, which adds a WhatsApp-style panel to sports streams on an app, to enable groups of fans to chat together without having to leave the sports streaming app. The idea is to enable fans to avoid having to use multiple apps for different purposes while trying to watch and talk about live sports.
The second to present their ideas was the eventual winner AriSports. The third shortlisted entry was Stream Insights, which again focused on gamification and predicting what happens next in live sports. The product is based on real-time data. It present fans with options for events that might happen over the next 60 seconds – a goal, a corner, a free kick etc – and you win points if you predict correctly in the timeframe allowed.
The final presentation was from Sportsbuff, which displays real-time engagements with fans over the top of live sport streams. These are called 'buffs' and include polls, competitions, sponsor integration and so on. Buffs can also add facts to live streams, reminders of future events, or any information you like. The product is already in the market, with 10m+ fans already having used it.
Before announcing the winner, Hindhaugh said he was "fascinated by all the ideas, and the identification of new ideas for a new generation of fans. The question is how do we stay in touch with the new generation, and not lose touch with existing fans? It was a very tough decision, but the winner felt like it understood where BT Sport is wanting to go, and we can see genuine opportunities for where we can do something together."
Talking to Broadcast Sport after AriSports was revealed as the winner, Brian O'Driscoll said: "The presentations were top class. Gaming is such a huge component to where sport is going, and this is a fun, clever piece of tech innovation."
Hindhaugh added: "We were extremely impressed by the quality and ingenuity of the innovations on display at the Innovate 21 final. I would like to congratulate AriSports on being crowned worthy winners. Its proposal is an ambitious platform that will offer fans an immersive experience and we look forward to working with them in helping harness its potential."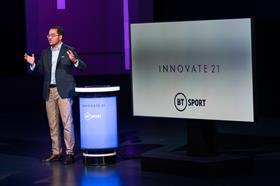 Rassim Hariz, chairman, AriSports (pictured left), said: "Special thanks to BT Sport for this great award, we look forward to working with their team. The process was very competitive and we are honoured to be the winners of Innovate 21. For us, it has been two years in the making and I would like to thank all our technical, product development and business development team. Working with BT Sport, and knowing their innovation track record, is fully aligned with our identity and ambitions in applying our world-first technology for immersive fantasy gaming on live content."