Development cash offered to selected VR projects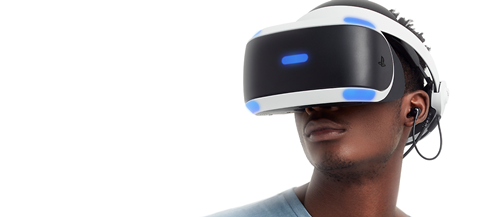 Digital Catapult and Arts Council England have announced a list of 20 VR and AR projects that will join its CreativeXR programme, which aims to boost the UK's immersive sector.
The makers of each project are offered up to £20,000 of funding to develop an immersive prototype, and there are also workshops with industry leaders to help with key elements of concept development.
"We want to make it easier for content commissioners to take more risks and explore new forms of storytelling with immersive content."
The project developers will also get access to Digital Catapult's Immersive Labs in London, Brighton, North East Tees Valley and Belfast to work on their productions.
Following the development of prototypes, the projects then pitch at a showcase event attended by the likes of Google, BBC, Sky, Sony, ARTE and HTC Vive.
CreativeXR received more than 250 applications to join its programme, from across theatre, art, music, education and gaming.
The 20 projects to make the shortlist are as:
Beholder by BOM (Birmingham Open Media), Birmingham: An immersive experience that explores beauty from autistic perspectives.
Coast AR by Immersive Storylab, Liverpool & Manchester: A mixed reality experience that will enhance the UK Coastline through story, myth, fantasy and heritage.
Fatherland by Limbik, Norwich & Portsmouth: An interactive theatre experience bringing real-time motion capture and VR technology to the art of storytelling.
Immersive Histories by All Seeing Eye Ltd, Stroud: An immersive VR experience allowing an audience to physically step into history.
Leviathan Legacy by Plymouth Arts Centre, Plymouth: Rising sea levels, interplanetary travel and aquatic worlds: Leviathan Legacy.
London's Got Character by Figment Productions, Guildford: An Augmented Reality experience bringing London's cultural history to life through its vibrant literary, artistic and historical characters.
Municipal Dreams by VR CITY LTD, London: An immersive journey into the complicated history of the notorious Aylesbury Estate.
Open Space by Roomsize, Bristol: Be immersed within an invisible ensemble of musicians, who create an ever-changing musical texture around you.
STEIN by Hammerhead, Gateshead: A VR crime thriller solving cold cases throughout British history.
Symphony of Noise by UP Creatives, Brighton: Immerse yourself into sonic-landscapes - 'Listen differently' to reveal the music hidden in our world.
The Collider by ANAGRAM, Bristol: Navigating across a virtual divide, you and a partner find each other.
The Conductor by Interplay Theatre, Leeds: An immersive digital exploration of the human senses and nature.
Three Lights by Third Lighter Ltd, London: An immersive, narrative driven, VR learning experience designed for the museum sector.
Traitor by Pilot Theatre, York: A two-player interactive high stakes thriller, combining VR with live action.
When Something Happens by Boom Clap Play, Belfast: An epic journey through the history of the cosmos.
Winter VR by Metro-Boulot-Dodo, Leicester: A poignant story of love, music and loss set against a beautiful arctic landscape.
XR Museum by NSC Creative, Leicester: Enter the space wing of a virtual museum and go beyond the glass.
The Whitechapel Tales AR by 1888, London: An augmented reality experience covering the history and a story of the Whitechapel area.
Aurelien Simon, head of immersive at Digital Catapult, said: "We want to make it easier for content commissioners to take more risks and explore new forms of storytelling with immersive content. That's why we're giving the 20 teams selected the space and funding they need to experiment with their projects, as well as the chance to present their creations to content commissioners at the end of the programme."
Francis Runacres, executive director of enterprise and innovation at Arts Council England, added: "CreativeXR is designed to deliver a boost to arts and culture organisations, small businesses, and creative innovators capable of producing world-leading immersive content. This support structure gives creatives room to take risks that lead to the most exciting outcomes, standing to benefit businesses and consumers alike."
The programme has been developed by Digital Catapult and Arts Council England with support from Innovate UK, and in association with Immerse UK.