Aerial Camera Systems' new gimbal makes its debut at this month's Wimbledon tennis tournament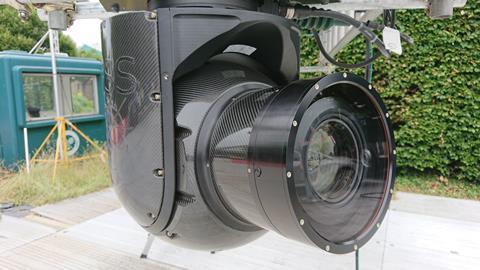 Aerial Camera Systems (ACS) has become the first customer for the new Cineflex Pro+ gimbal.
The addition to ACS's specialist rental cameras is currently making its debut at Wimbledon, delivering the aerial hoist shots of the All England Club in UHD/HDR for the first time.
The system is fitted with the Grass Valley LDX-C86N Compact Camera and Canon CJ45 lens (pictured).
The Cineflex Pro+ is billed as the best stabilised platform option for larger, broadcast payloads, and is able to handle the largest broadcast cameras and lenses.
This new acquisition joins ACS' line-up of gimbals which include Cineflex and Shotover F1 systems.
ACS operations director Dave Whitlock commented: "We've made some significant investments in equipment this year, recognising the growing demand for 4K UHD formats. These include Sony HDC- P43 cameras to complement our SMARThead™ remote head packages first used for the coverage of the Royal Wedding in May and currently at Wimbledon for Centre Court UHD/HDR coverage. These strategic purchases mean that ACS is now able to offer our customers the option of 4K UHD delivery in the majority of our specialist cameras."