The panel makes it possible for video editors to search for, audition and license music and sound effects directly from Premiere Pro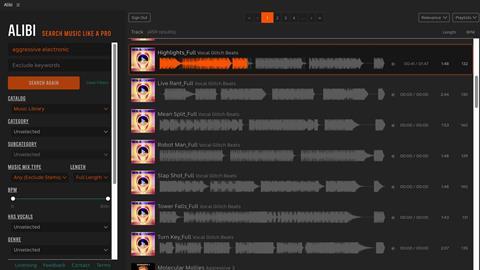 Production music and sound effects library Alibi Music has released an extension panel for Adobe Premiere Pro, enabling video editors to search, access and license Alibi's collection of 250,000 music tracks and sound effects, directly from Premiere Pro.
The tracks can searched for using a range of filters, including instrument, era, mood, length and a 'negative search', which weeds out results they know they don't want.
Once an editor makes a selection, they can try it out before licensing, placing any audio track, stem or mix directly into their project.
They can also able to create playlists of their favorite tracks to reference later on, or to share with their production teams.
Licensing can be done directly through the Alibi Music extension for Premiere Pro. If an editor's company has a blanket license, they're already covered.
Kent Carter, vice president, strategic initiatives, at Alibi, said: "Video editors already have enough on their plates without having to navigate and move audio files from one place to another. We'd like to think of our new tool as the next best thing to having a professional composer working with you while you're editing in Premiere Pro."
Sue Skidmore, head of partner relations for Adobe Video, added: "By giving Premiere Pro users an intuitive way to work with and license professionally composed music without leaving the app, Alibi is saving them much-needed time."