It was created in partnership with start-up Wildmoka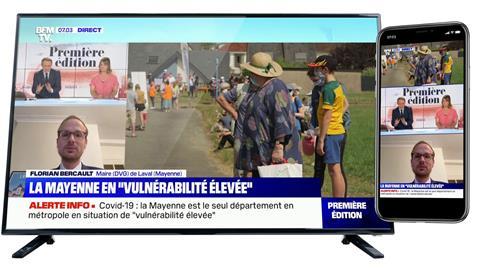 Altice France has launched a vertical, live video format for mobile on French news channel BFMTV, describing it as a 'world first'.
The innovation was exclusively developed in collaboration with start-up Wildmoka, which is based in France and specializes in real-time enrichment of digital media content.
The first of its kind innovation automatically converts the horizontal frames of standard TV streams to a vertical format for use on mobile phones. It means that when BFMTV is viewed from a smartphone, the entire screen will be occupied with content, regardless of the device, brand, or model in use. This is an improvement on the former situation, which saw broadcasts designed for horizontal screens put onto the vertical screens of mobile phone users.
Altice France will soon be looking to branch out the use of its innovation across further channels, such as BFM Business.
CEO of Altice Média, Arthur Dreyfuss, said: "It is a source of real pride to be the first TV channel in the world to offer an innovation that makes television the best way to get real-time news on a smartphone. This innovation is the result of our historical and eternal desire to explore new formats, to continue our investments, and to combine technical progress with editorial quality to present ever more accurate information."
Thomas Menguy, president and CTO of Wildmoka, added: "After assisting in the creation of sports content for RMC Sport, it is BFMTV's turn to use Wildmoka's unique expertise around AI and ML to verticalize its content for News in real time, in order to better respond to an increasingly connected and mobile audience."