Advanced lighting simultor app creates a buzz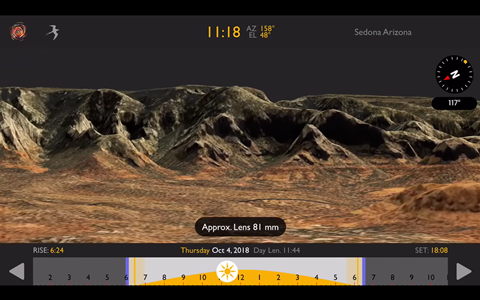 An innovative Augmented Reality (AR) light simulation iPhone and iPad app for cinematographers, called Helios Pro, was one of the highlights of the tech area of the film festival Camerimage.
The app, created by the intriguingly named Chemical Wedding, enables cinematographers to simulate how the sun will illuminate and cast shadows on potential shooting locations on any day of their choosing; past, present or future.
You select the location and date of your shoot and a dynamic 3D mesh of the terrain is displayed in AR, showing how light will change across the hills, mountains and valleys, and where the shadows are cast at different times of the day.
You can also drop in people and objects into the scene to see where their shadows are cast and which parts of them are lit by sunlight.
Helios Pro uses OpenStreetMap building data to render a 3D reconstruction of buildings and streets to enable you to see exactly how the light will strike the buildings of your location throughout the day.
The app uses Apple's ARKit to project a 3D model in the real world, so users can look at the physical 3D object from different angles through their phone or tablet. When you walk forwards and backwards or move sideways, the object "behaves as if it's there with you," says Chemical Wedding.
For night photography, the Milky Way section of the app uses constellations to calculate the rise and set times of the Milky Way at your location.
The days of the month run along the bottom and the hours of the day on the left-hand side, making it possible to quickly find a time when there are only stars in the sky and light won't spoil your view of the stars.
Helios Pro also includes a light pollution map for your location showing how likely light from surrounding houses and cities will disrupt your view of the night sky.
Helios Pro went live on the iPhone App store on 20 November. It costs £28.99.