NAB 2018: Avid slashes cost of Media Composer and reveals AI tools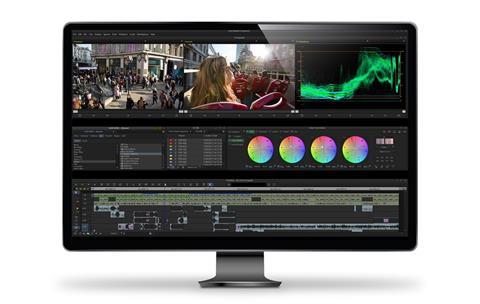 Avid has reduced the cost of the subscription version of Media Composer (pictured above) to under US$20 (around £15) a month and revealed a slate of Artificial Intelligence (AI) tools. It has also launched a new nearline storage product.
The announcements were part of a wide-ranging series of new product releases revealed at Avid Connect, the company's three-day customer event, held in Las Vegas just prior to NAB 2018.
The lower cost subscription version of Media Composer, which was previously priced at US$50 a month, provides the full feature set of the industry-standard editor, with up to 24 video tracks, 64 audio tracks, and unlimited bins. It features a "newly refined" user interface and support for 4K, 8K and HDR.
During Avid Connect, Avid also demoed Media Composer running entirely on the cloud (using compute power from cloud provider Microsoft Azure), enabling post houses to spin up additional Media Composer seats on demand when required.
Avid's new AI tools are available through Avid | AI, which is also part of the Avid | On Demand cloud services. Avid | AI is a set of cloud services that utilise machine learning, including facial and scene recognition and text and audio analysis.
They are a combination of Avid-developed tools and tools from Microsoft Cognitive Services and will be available in the second half of this year.
Also released later this year is Avid | Transformation, a new suite of automated services including auto-transcoding, watermarking, and content repackaging for delivery to any device, anywhere. Transformation services are being developed both by Avid and certified partners.
Avid's new nearline storage product is the Avid NEXIS | E5 NL, which will be available from next month. It enables creative teams to move media from on-line to nearline quickly if a project goes on hold, or while awaiting final approval.
The product includes a new web-based Avid NEXIS management console app for managing, controlling and monitoring the storage.