Three tiers range from products for aspiring music creators to audio post houses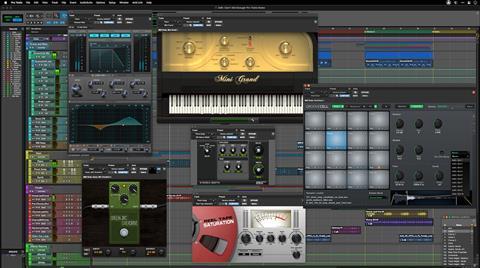 Avid has revealed a revamp of its subscription plans, announcing a three tier system.
The three tiers are Pro Tools Artist for aspiring music creators ($99 (£79) annually, $9.99 (£7.99) monthly), Pro Tools Studio for serious audio engineers and music producers (($299 (£239) annually or $39.99 (£32) monthly), and Pro Tools Flex, a subscription bundle for professional audio post and music facilities ($999 (£799) annually or $99.99 (£79.95) monthly).
Existing customers will be migrated to the new system. Current Pro Tools subscribers and perpetual license customers with active plans will automatically transition to Pro Tools Studio and receive all of the software enhancements. Active Pro Tools Ultimate subscribers will receive the full Pro Tools Flex subscription bundle, including the latest version of Pro Tools Ultimate, while Pro Tools Ultimate perpetual license customers with active plans will receive the Pro Tools Ultimate software enhancements.
Pro Tools Artist is a new level for aspiring music creators, and includes thousands of instrument sounds and loops, over 100 included plugins, MIDI tools, and powerful editing and mixing workflows.
Studio builds on the current Pro Tools offering with enhancements like increased track counts, surround and support for Dolby Atmos® mixing and advanced automation features.
Finally, Flex is aimed at high-end professionals and offers an enhanced version of Pro Tools Ultimate software, plus additional content and third-party software.
All three tiers now include two new virtual instruments, virtual drum machine and sequencer Pro Tools | GrooveCell and virtual synth Pro Tools | SynthCell. In addition, Flex users will receive workflow automation platform SoundFlow - which provides access to over 1,600 prebuilt macros and commands for Pro Tools that can be custom assigned and triggered by keyboard shortcuts, MIDI controllers, and HID devices.