Labour councillor demands answers amid concerns surrounding Tory 'takeover'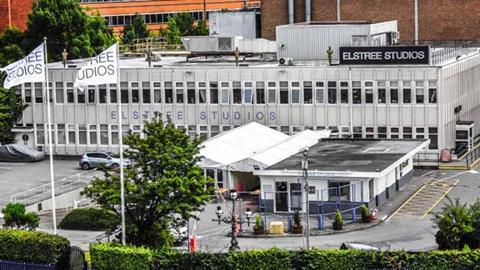 A battle for management control of Elstree Studios has broken out between the studios' managing director Roger Morris and Hertsmere Borough Council, which owns the studios, in what one local councillor this week branded a Tory 'takeover'.
The studios are the production home to some of Britain's biggest TV shows including Netflix's The Crown, along with Strictly Come Dancing, The Voice, and Have I Got News for You for the BBC and A League of Their Own for Sky.
But now a drama around who controls the day-to-day running of the studios is being played out in Elstree's own boardroom involving Morris and the Conservative-controlled council.
The studio's managing director Roger Morris has not been seen at the studios for several weeks and the council and studios have refused to comment on his future.
Local Hertsmere Labour councillor Michelle Vince this week questioned whether the Conservative-controlled council was effectively mounting a 'takeover' of the management of the studios and is demanding independent auditors step in to investigate what is going on.
"Roger [Morris] has just disappeared. I am being told he is on leave with no date being given for his return."
Cllr Vince told Broadcast: "Roger Morris has done an incredible job at the studios and not just at the studios but in the local community. Now we can't get any answers about what is happening.
"Roger has just disappeared. I am being told he is on leave with no date being given for his return. I am concerned that there's a planned takeover of the management of the studios and the council wants to make way for a 'Yes Man' and I suspect that yes man might even turn out to be a councillor or former councillor.
"These studios belong to all of us and we are entitled to know what's going on. One thing is for sure it smells very bad."
"I have written to the council asking for independent auditors to look at what is happening at the studios and the role of the board of directors, which includes members of the council".
The borough's council leader Morris Bright, who is also the chairman of the Elstree Studios board, said he could not make any comment about individual staff - but made clear that there is no plan to install a councillor to run the studios.
"For the avoidance of doubt, Hertsmere Borough Council has never and will not appoint a councillor to the executive directorship role, including the role of MD. It's never happened before and it will not happen in the future. Not me or any other councillor."
Elstree Studios has a famous legacy and has played host to some of the world's biggest film and TV talent, including the Star Wars and Indiana Jones movies. But it fell on hard times back in the early 1990s and the local council took ownership of it in 1993.
Elstree has been riding the global production boom in TV and film production with its stages booked out with TV and film productions and ambitious growth plans to increase capacity.
In May work began on a £15.6m expansion of the studios that will see two new sound stages and workshops being built at the complex.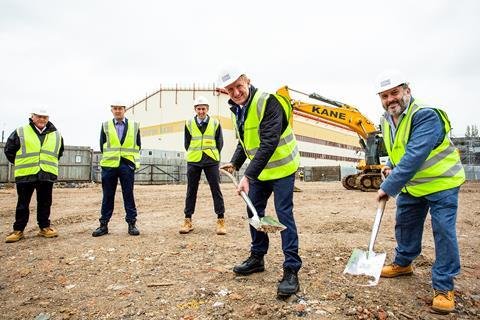 L to R: Roger Morris; ITN's David Conway, Oliver Dowden, Kevin Church, senior project manager of R. G. Carter; and Cllr Bright MBE.
Culture secretary Oliver Dowden, who is Hertsmere's MP, was photographed (above) alongside Morris as the first turf was dug to begin the studio's foundations.
He said at the time the development would bolster Elstree's status as the "home of UK film and this country's position as a creative industries superpower".
Elstree MD Morris was also a key driver of a separate and even more ambitious development – the creation of Sky Studios Elstree, a new 32-acre, 14-stage site developed alongside Elstree, which is expected to help create around 2,000 jobs for the local economy.
The plan – which is backed by Sky, NBCUniversal and parent company Comcast, working with Legal & General – will cement Elstree's role as a global production hub and increase capacity to make it possible for more British and international shows to be made at the location.
However, despite the success of the studios, in the background there have been clear tensions between the studio's Conservative controlled council and Roger Morris about the running of the facility – and where the lines should be drawn between studio and council activity.
The council told Broadcast this week that it was a matter for Elstree Studios, not for the council, to comment on questions about the studio. A spokesman for Elstree Studios would only say: "We are unable to comment on personnel matters".
Roger Morris could not be contacted for comment.