The performance features a CG-generated jazz club and a CG-band powered by real players in mo cap suits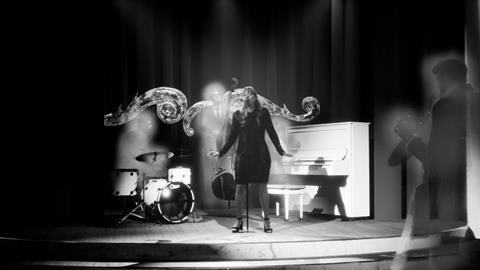 BBC Click is to broadcast a virtual jazz performance on 26 December, taking place in a CG-generated jazz club created using Epic Games' Unreal Engine.
The performance features Canadian Jazz singer Jill Barber appearing in a virtual representation of the famous Palomar Supper club, performing festive songs with a CG jazz band that's powered by real players in motion capture suits. BBC Click presenter Paul Carter, in the UK, also appears in the CG-generated bar to interview Barber in Canada.
The players are performing in Animatrik's Burnaby, Canada studio, surrounded by over 50 cameras in front of greenscreens, enabling every minute movement of the musicians to be tracked live. The data captured is used to direct the movements of phantom CG avatars that appear on-stage and the dance floor.
The performance has been created by real-time visual effects specialist Shocap, using its proprietary tool, Ringmaster, alongside tech from Optitrack, Ncam Technologies, NVIDIA, and more.
Athomas Goldberg, executive director, Shocap said: "Seeing a Shocap Entertainment production broadcast across the world on the BBC is incredible. We're proving that mixed reality entertainment has a place on the global stage – this will be our biggest audience yet and will create an entirely shared audience experience."
Brett Ineson, executive director, Shocap, added: "Animatrik's leading motion capture facilities have helped build some of the world's biggest entertainment ventures and we're on the cusp of an explosion of XR-entertainment productions. We're proving that our studio is equipped to handle the demands of a modern, globally connected audience, transporting viewers into realistic virtual environments."