Among the updates is integration of Dropbox Replay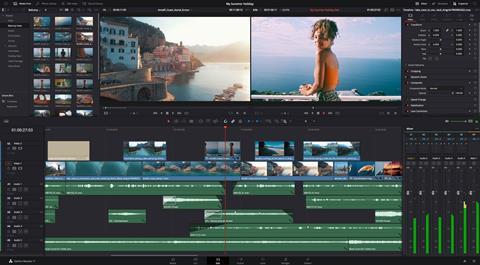 Blackmagic Design has released DaVinci Resolve 17.4.
The update allows it to work up to five times faster on Apple Mac models with the M1 Pro and M1 Max chips, allowing customers to work with up to 12 streams of 8K footage.
It also increases the decoding speed of 12K Blackmagic RAW files, making it over 3 times faster and H.265 rendering is also 1.5 times faster. In addition, DaVinci Neural Engine performance is up to 4 times faster.
As well as more speed, the update also includes the integration of Dropbox Replay. Projects can flow from DaVinci Resolve Studio directly to Dropbox Replay for video review and approval, with frame accurate colored markers, comments and annotations made in Dropbox Replay synced to the DaVinci Resolve timeline.
Also, with a simple login, customers will only have to sign in once. Other features include quick and easy render set up with dedicated Dropbox and Dropbox Replay presets as well as automatic background uploads that are monitored for status and confirmed when complete.
For subtitling, DaVinci Resolve 17.4 includes automatic resizing of backgrounds and cursor placement when creating captions, as well as nested timeline subtitle tracks now auto-populating the main timeline to speed up creating captions.
DaVinci Resolve 17.4 Key Features
- Hardware accelerated Apple ProRes on Apple M1 Pro and M1 Max.
- 120Hz support on Apple M1 Pro and M1 Max for smoother UI and playback.
- Faster DaVinci Neural Engine performance on Mac OS 12.
- Native HDR viewers on supported Mac hardware.
- Comments and annotations sync between Dropbox Replay and DaVinci Resolve Studio.
- Markers and comments sync between Dropbox and DaVinci Resolve Studio.
- Export timeline markers titles as YouTube video or Quicktime chapters.
- Steinberg VST3 support giving access to even more audio effects.
- Simplified color management, SDR and HDR selection and new automatic project settings.
- New Resolve FX including film halation.
- Improved 3D keyer and matte finesse controls.
- Text+ support for combining glyphs, vertical layouts and right to left for Arabic, Hebrew etc.
- Significantly faster ProRes decode, encode and AI performance for M1.
- Subtitle backgrounds auto resize and nested timelines decompose to parent.
Grant Petty, Blackmagic Design CEO, said: "To have the capability now to easily edit and color grade Blackmagic RAW 8K footage in HDR and all on a laptop while you're miles away from the studio is incredible. Plus the ability to easily collaborate on projects with Dropbox Replay makes it such an exciting time for our customers to be out there creating content. We're very excited to see what our customers can do with this amazing update to DaVinci Resolve."
In addition to the software update, Blackmagic has announced a series of price drops on DaVinci Resolve keyboards and panels.