Significant new features include a new way of editing for quick turnaround projects, AI tools and many new audio functions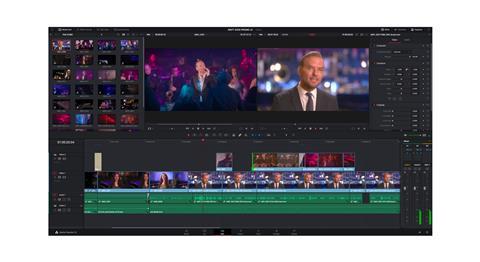 Blackmagic used NAB 2019 to unveil a major update to DaVinci Resolve. Version 16 of the post-production finishing tool includes a new 'cut page' to speed up the editing process for quick turnaround projects; a series of AI-driven functions including an object removal tool; and a large number of audio tweaks.
The cut page in DaVinci Resolve 16 streamlines the editing interface and edit controls and also introduces a new way of editing to enable faster clip selection and timeline creation.
In the cut page, you can do all the usual tasks such as import, edit, trim, add transitions, titles, automatically match colour and mix audio. However, Blackmagic says it "challenges the traditional way of working" with a source tape mode and an A/B trim tool.
The source tape button collates all the clips in a bin into a single long 'tape', so it's quick and easy to scrub through all the shots, find the parts you want and quickly edit them to the timeline. Blackmagic has also added a dual timeline into the cut page – one with the full timeline and the other zoomed in to the current work area – to speed up moving around a timeline.
"The new cut page in DaVinci Resolve 16 is the first professional editing interface designed to help editors meet super tight deadlines."
The anticipated workflow is for editors needing to get projects out quickly to begin in the cut page and move to the regular edit page to further refine and polish up the edit.
Blackmagic Design CEO Grant Petty, said: "The new cut page in DaVinci Resolve 16 is the first professional editing interface designed to help editors meet super tight deadlines on fast turnaround projects. The cut page is all about power and speed."
Meanwhile, the new AI functionality in DaVinci Resolve 16 is tagged the 'DaVinci Neural Engine'. As well as adding features such as speed warp motion estimation for retiming, super scale for up-scaling footage, auto colour and colour matching, it also brings Blackmagic-created facial recognition into the editor. This automatically sorts and organises clips into bins based on the people in the shot.
Furthermore, there's a new object removal tool which tracks through the surrounding frames to work out what needs to be put in to remove unwanted objects from a video clip.
There are additional new features in version 16 too, including 'adjustment clips' that let you apply effects and grades to clips on the timeline below. There's a new quick export to upload projects to YouTube and Vimeo; GPU-accelerated scopes; and a "massively updated" Fairlight [audio editing] page.
The Fairlight enhancements include the ability to stretch waveforms to precisely sync dialog replacement with video; there's immersive 3D audio support; and "dialog sweetening tools."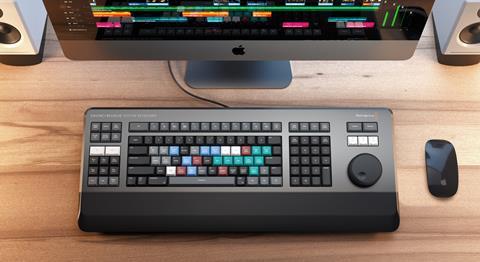 Also at NAB 2019, Blackmagic announced a new DaVinci Resolve Editor Keyboard, which again is pitched at "dramatically improving" the speed of editing. It enables the use of two hands while editing, so transport control and selecting clips can be done while performing edits. The keyboard will be available in August for US$995 (£765).
DaVinci Resolve 16 public beta is available now, for download from the Blackmagic Design website.