New broadcast deck has advanced H.265 4K recording featuring a touch screen user interface with built in scopes and HDR screen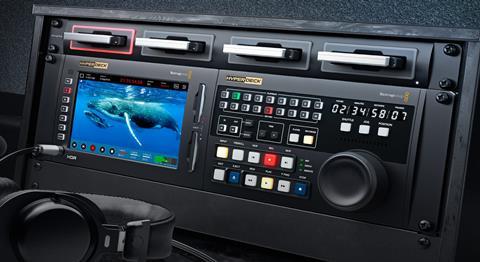 Blackmagic Design has launched the HyperDeck Extreme 4K HDR broadcast deck.
The HyperDeck Extreme builds on the Hyperdeck with new innovations such as H.265 files, optional internal cache, 3D LUTs and HDR support. It has the ability to record up to 4K in H.265, and is designed for use in broadcast and live production.
It also features a touch screen user interface with built in scopes and HDR screen, on which users can see their recording as well as control over all deck settings. Users can also add HyperDeck Extreme Control to transform it into a traditional broadcast deck.
HyperDeck Extreme 4K HDR Features
- Record and playback in full resolution 4K.
- Touch screen user interface with deck controls.
- Supports live production, digital signage and archive use.
- Large LCD screen for with touch user interface.
- Dual CFast media cards for non stop recording.
- Optional media cache eliminates dropped frames.
- Advanced HDR support with bright wide gamut LCD.
- Built in scopes include waveform, vector, parade and histogram.
- 10G Ethernet for extremely fast remote media upload.
In addition, it includes 2 media slots, 12G-SDI, analog connections for archiving, USB-C external disk recording, plus a front panel speaker and headphone jack. There's also an optional cache that eliminates dropped frames if their media becomes full or is too slow. Both AC and DC power connections are also included for studio or on location use.
Blackmagic CEO Grant Petty said: "The new HyperDeck Extreme 4K HDR will offer customers a modern design with traditional broadcast controls that allow them to record native 4K in H.265.
"There are so many features that this advanced record and playback deck is the perfect solution for the next generation of broadcast, live production and digital signage."