It has revealed new HyperDeck Studio recorders, Studio Cameras, and Web Presenter 4K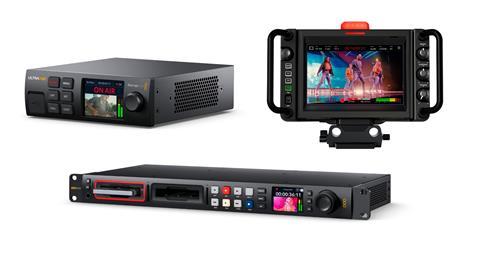 Blackmagic has revealed a range of new products to assist with audio, visual, and streaming.
A new family of HyperDeck Studio recorders support record and playback to H.264, ProRes and DNx files, as well as PCM or AAC audio. Plus all models support SD Cards and UHS-II cards, with thePro models adding extra SSD support. There are four new models, with varying strengths.
HyperDeck Studio options
The 3G-SDI HD Mini records and plays to SD, UHS-II cards or external USB disks up to 1080p60
The larger HD Plus adds updated transport controls, front panel headphone and speaker and SDI monitoring
The full rack HD Pro offers SD and SSD slots for additional versatility, as well as a search dial with clutch
The 4K Pro model records H.264, H.265, ProRes or DNx in SD, HD and Ultra HD in standards up to 2160p60
In addition to the recorders, a new series of Studio Cameras for live production have been released.
The Studio Camera 4K Plus and Studio Camera 4K Pro offer features in a compact and portable design, aimed at use in commercial brand production, multicam content creation studios, and vertical markets such as house of worship, entertainment and corporate training/presentations.
The cameras also hope to handle difficult lighting conditions in smaller venues, thanks to a dual ISO sensor from-12dB (100 ISO) up to +36dB (25,600 ISO). Advanced features include talkback, tally, camera control and Blackmagic RAW recording to USB disks.
Finally, the Blackmagic Web Presenter 4K model has an upgraded UHD resolution H.264 encoder for live streaming in native UHD. Its compact design include a 12G-SDI input with down converter, allowing streaming in 1080p HD or 2160p UHD resolutions. It also simulates a USB webcam when connected to computers, and the USB webcam feature also supports 1080p HD or 2160p UHD resolution.
The news was revealed in a live production and broadcast update on YouTube: