UK Screen survey reveals 51% of facilities' European staff have yet to apply for Settled Status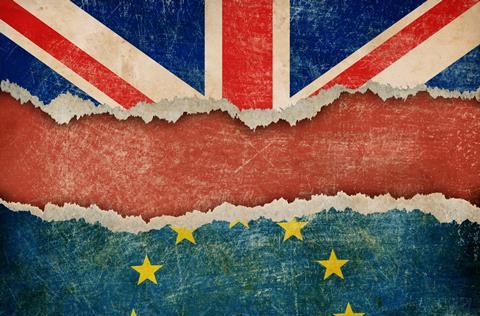 More than half of European workers in the UK visual effects, animation and post-production industry have yet to apply for 'Settled Status', according to a UK Screen survey.
UK facilities are heavily reliant on European talent – it is estimated that 30% of TV and film VFX workers in the UK come from Europe. However, EU citizens in the UK will have to use the govern- ment's EU Settlement Scheme if they want to stay after Brexit.
According to the survey of UK Screen's VFX, animation and post-production members, 51% of EU workers in the UK have not yet applied for Settled Status, which gives them the right to stay in the UK permanently.
UK Screen said 22% have been granted Settled Status, 18% have been granted Pre-Settled Status, and 3% have applied but are waiting to hear a decision. Some 5% said they do not intend to apply, while 1% did not indicate their plans.
UK Screen chief executive Neil Hatton said: "While we are encouraged that 40% have applied and received a positive settlement, the fact that 51% are still to apply creates uncertainty for business."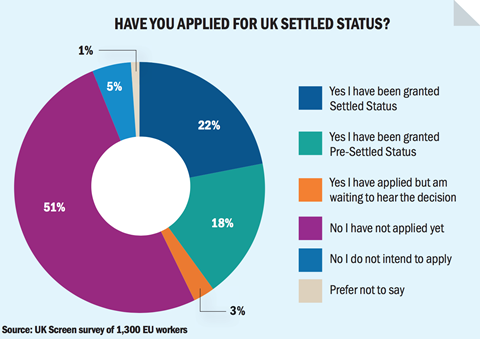 The application for Settled or Pre-Settled Status is free, and the overwhelming majority of applicants hear back with a positive result within a matter of days, according to UK Screen.
Hatton said that Europeans with Settled or Pre-Settled Status will be at an advantage in terms of employability in the UK after Brexit, as employers will be able to avoid expensive visa costs once they are imposed for EU citizens.
A five-year skilled-worker visa, for example, could cost in the region of £9,500, taking into account costs such as the application, certificate of sponsorship, residence permit, Immigration Health Charge and Immigration Skills Charge.
"It makes sense to apply even if you don't intend to stay in the UK long term, as it will keep your options open," said Hatton.
UK Screen is considering organising clinics to help EU workers in the sector apply for Settled Status in the UK.
In the event of a no-deal Brexit, EU citizens already resident in the UK by 31 October 2019 will be welcome to stay, and they will have until 31 December 2020 to apply to the EU Settlement Scheme to protect their status.
Once free movement ends on 31 October 2019, EU citizens arriving in the UK will be admitted under UK immigration rules and will require permission to enter or remain.
With the likelihood of a no-deal Brexit rising since Boris Johnson became prime minister last month, the immigration issue is now the key concern for UK facilities that fear restrictions to their ability to recruit top talent and the addi- tional visa costs of hiring workers from outside the UK.
However, a no-deal Brexit is likely to have some positives for UK facilities. The fall in the value of the pound – which has acceler- ated in recent weeks – is making UK facilities even more attractive to key US broadcasters, streamers and producers. The pound is now worth $1.21 – a two-year low and significantly down from $1.48 on the eve of the Brexit referendum.
"The competitiveness of our industry in dollar terms will be very high," said Hatton. "And we think that will probably end up attracting even more work."