Honouring the rising stars of the industry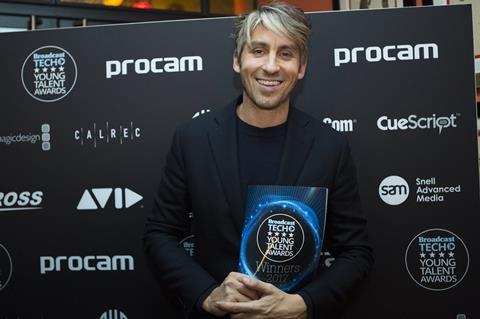 A 27 year-old VFX artist who worked on George Michael's Freedom documentary and a facilities director who was a runner just four years ago were among the winners at the 2017 Broadcast TECH Young Talent Awards, sponsored by Procam.
The VFX artist, Ollie Ramsey from Coffee & TV, was handed the Special Achievement award while 27 year-old Kate Higham of Splice Post Production picked up the Women in Tech award for her meteoric rise from entry-level position to senior management.
Director and songwriter David Austin, who worked with Ramsey on Freedom and also presented him with his award on the night, said: "Throughout his career, George Michael always set the bar high both musically and visually. Perfection was the benchmark and inviting Ollie into our close creative team was no small task for him or us. Ollie's contribution exceeded our expectations in every way."
Higham was one of two winners from Splice with the company's systems engineer Jack Howells named as Best Young Engineer.
Framestore also picked up two awards as Catherine Pavitt was chosen as Best Young Producer and developer Alex Perry was handed the Procam Award for Excellence.
Strawberry Blond TV had an equally successful night with Mike Dunn winning in the Audio Production category and Fergus Thom victorious in Camera Operator.
Other winners included Sky Production Services editor Lachlan Smith (Best Young Online Editor), The Farm's Max Goldini (Best Young Colourist) and Fifty Fifty's Katy Gorman (Best Young Runner).
The full list of winners was:
Online Editor, sponsored by AKA Design: Lachlan Smith, Sky Production Services
Offline Editor: James Sheldon, Fremantle
Colourist, sponsored by SAM: Max Goldini, The Farm Group
VFX artist, sponsored by Blackmagic Design: Fatemeh Khoshkhou, Jellyfish Pictures
Procam Award for Excellence: Alex Perry, Framestore
Engineer, sponsored by Ross Video: Jack Howells, Splice Post Production
Audio Post Production, sponsored by Avid: Ben Chick, Hackenbacker
Audio Production, sponsored by Calrec: Myke Dunn, Strawberry Blond TV
Runner, sponsored by Hospital Club; Katy Gorman, Fifty, Fifty
Producer, sponsored by Cuescript: Catherine Pavitt, Framestore
Camera operator, sponsored by Panasonic: Fergus Thom, Strawberry Blond TV
Woman in Tech, sponsored by Clear-Com: Kate Higham, Splice Post Production
Special Achievement: Ollie Ramsey, Coffee & TV
The Broadcast TECH Young Talent Awards, sponsored by Procam, honour outstanding individuals under 30 years of age working in television production, post-production and technology.
The winners were announced at London's Ham Yard Hotel on Wednesday 1 November.