Items from the iconic series to go under the hammer in December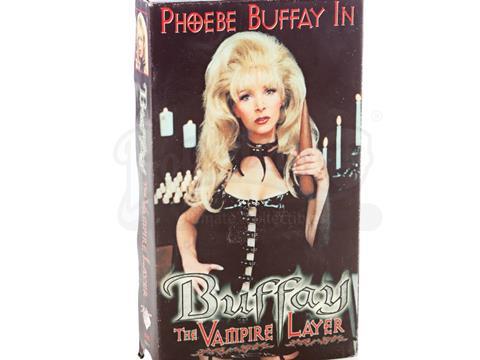 Classic props, costumes, set decorations and production material from Friends is being auctioned off next month.
The 100+ auction lots span all 10 series of the iconic show, and will be available through online movie and television props site Prop Store.
Bidding opens on 3 December and runs through to 17 December and proceeds from the auction will benefit The Trevor Project.
Highlights from the auction include Monica and Chandler's wedding invitation set (est. $1,000-1,500); Rachel's Hawaiian print dress (est. $3-5,000); Phoebe's Buffay The Vampire Layer porn VHS tape (est. $1,500-2,500) (pictured); Joey and Chandler's wood canoe and two paddles (est. $4,000-6,000) and Joey's cuddly toy penguin Hugsy (est. $1,000-1,500).
There are also authorised reproductions of different studio items, including the Central Perk orange couch (est. $6-8,000).
An auction preview is now available at http://www.propstore.com/friends.
Prop Store COO Brandon Alinger, said: "Prop Store is thrilled to be working with Warner Bros to auction some incredible material from all 10 seasons of Friends. It's an honour to be able to bring some amazing original pieces to the fans, such as Joey's original Hugsy doll."