Martin Allan and Steve Waugh become creative directors following an internal promotion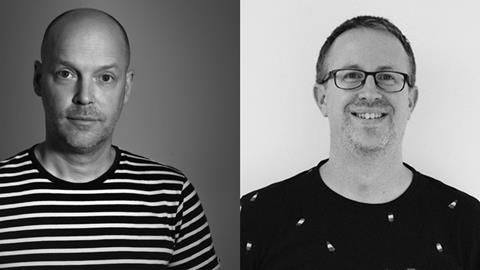 Coffee & TV has announced two new creative directors – Martin Allan (above left) and Steve Waugh (above right) – who have both been promoted internally. Allan is a "renowned VFX generalist" who heads up Coffee & TV's CG and animation department, while motion designer and director Waugh has grown the studio's motion design team for the last seven years.
As creative directors, Allan and Waugh will liaise closely with Coffee & TV's clients to support and guide their campaigns.
Allan's work at Coffee & TV includes crafting and directing projects for EON.UK and Dreams, and the Ciclope animation for Vauxhall.
Meanwhile, Waugh has art directed for clients including BBC, ITV, Sky, McLaren, Vauxhall, Facebook, Tanqueray, Royal Mail, and CCTV China.
Coffee & TV CEO and co-founder Derek Moore, said: "Martin and Steve are exceptionally talented artists who have played a key role in Coffee & TV's growth and success over the last seven years. Their commitment, artistry and passion for creativity has significantly elevated their departments. As we emerge out of the COVID-19 pandemic and our industry seeks to gain momentum, we feel this is the perfect time to promote Martin and Steve and recognise the expertise and skill they bring to every project."