The new building provides film-makers with a huge range of production kit to test out and buy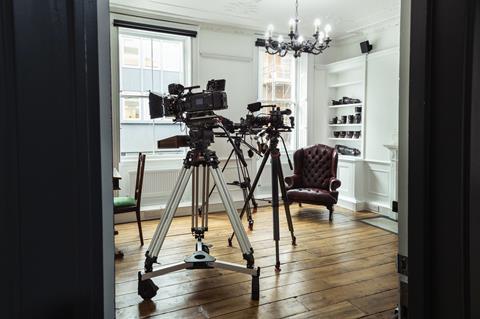 Leading pro kit reseller CVP has opened a five-storey showroom in Newman Street, London, showcasing kit from manufacturers including Arri, Red, Sony, Canon, Zeiss, Panasonic, Blackmagic.
The building features a dedicated Canon floor with both Canon professional and consumer cameras, third-party accessories, and a room for Canon DP monitors.
There's also a floor for Sony kit, again with a mix of Sony pro and consumer cameras and third-party products.
Elsewhere in CVP's showroom is a Blackmagic suite with a DaVinci Resolve editing space and other Blackmagic Design products including switchers, converters, recorders and adapters.
There are also cameras from Arri, Red, Panasonic and Blackmagic and what CVP says is Europe's "largest display of Zeiss lenses". These can be tested with cameras brought in my visitors to the store from the selection available in the showroom.
Other lenses at the showroom include models from Angenieux, Leica, Canon, Sigma, Sony and Kowa.
The showroom also houses gimbals and accessories from DJI, Freefly, eMotimo, 1A Tools and Cinemilled and camera accessories from Wooden Camera, Vocas, Zacuto, Small Rig, Miller, Sachtler, Ronford Baker, OConnor, Manfrotto, Anton Bauer and Hawkwoods.
Other facilities in the building include a Camera Testing Area to rig and test newly purchased kit; a Motion Room with the main gimbals to try out; and a Monitor Wall with 5" and 7" monitors displayed side by side and synced via a video router for comparison. Visitors can plug-in any camera or video feed and the same image will be displayed across all 20x monitors at the same time.
CVP sales director Jon Fry said: "This permanent display of equipment is a playground where people can come to see, handle and test every single bit of kit required to bring their project to life. From an HDMI cable all the way to large format cameras and everything else in between, this creative space gives everyone in the industry a place to learn new skills and get hands on all the latest kit, all year round."