Vehicle equipped with EVS's Xeebra for live reviews of cycling races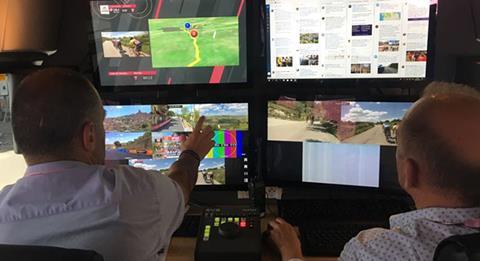 EVS has equipped a newly-built van for the world's governing body for cycling, which can help race officials monitor events at top cycling events, including the Tour de France and Giro d'Italia.
The Union Cycliste Internationale (UCI) van has two Xeebra multi-angle review systems, and was deployed for the first time yesterday during the fourth stage of the 2018 Giro d'Italia in Sicily.
EVS' Xeebra lets the officials review the action on the road through a touchscreen which allows them to see up to 16 live camera angles that remain entirely in-sync. The officials can then narrow their view from all feeds down to one full-screen view and zoom in with a touch-and-pinch gesture for further detail.
The technology is designed to give greater independence to race officials. Rather than having to ask the operators in broadcast facilities to provide them with the footage to review, investing in a dedicated Xeebra-equipped van gives them the ability to bring those feeds under UCI's full control, allowing for quick and accurate decision-making.
"The video review system, which is built on industry-leading replay technology, can be configured for any sport and we are delighted to see cycling added to the list of major disciplines that use Xeebra, along with football, basketball, rugby and horseracing", says Stéphanie Dessart, senior product manager at EVS.
After the Giro d'Italia, the tailored van will head to the Tour de France, the Vuelta a España, the 2018 UCI Road World Championships in Innsbruck, Austria, and finally Il Lombardia.