Audio specialist to become full-service post house and move to bigger space in heart of Soho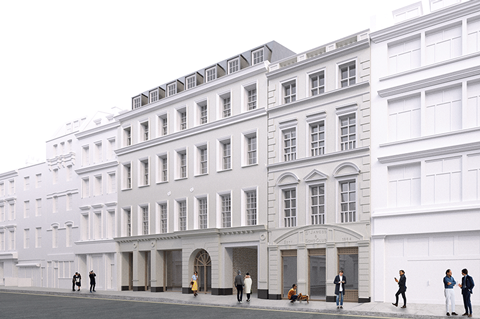 Details of 71-year-old post house Warner Bros De Lane Lea's (WBDLL) growth plans, which include a substantial move into picture post-production and relocation to a huge new Soho HQ, have been revealed.
The company has been a staple on the Soho post scene for many years, with its reputation built on audio post-production work.
However, in a surprise move, it recently announced it is planning to grow its offer into a full-service post house, as part of a multi-million-pound investment in new services and facilities.
Since then, it has nailed its colours to the mast by enticing highly regarded, award-winning drama and features colourist Asa Shoul (Mission Impossible: Fallout; Baby Driver; Tin Star; The Crown) to leave Molinare and set up WBDLL's new grading wing.
Shoul's assistant Katie McCullock and Molinare senior post-producer Louise Stewart joined him, alongside online editor Gareth Parry. It's the beginning of a recruitment drive that will continue over the next 12-months or so, as the company morphs from a large-scale audio specialist to one of the foremost full-service post houses in the UK.
WBDLL managing director Cara Sheppard told Broadcast that another big-name colourist will be joining the company in the new year, although she couldn't yet reveal who it will be.
Phase one of WBDLL's Soho expansion is all within its current office in Dean Street, where it has opened two new 4K HDR grading theatres with Baselight X and Baseboard II panels, along with a number of online suites. It has also added dark-fibre connectivity to Warner Bros' Leavesden Studios, where the company is in the latter stages of setting up a dailies service.
The next phase of the company's aggressive growth strategy will happen in 2021, when it moves into a new purpose-built post-production facility in the centre of Soho. The building is currently under construction.
Sheppard explains: "We're going to move in to the old Foyles bookshop on Charing Cross Road, which backs onto Greek Street, where we will have our entrance. The building is called Ilona Rose House and our space there will cover 8,000-10,000 sq ft.
"We're expanding in such a significant way in order to meet demand not only for more facilities but for bigger stages and for the full range of picture post services.
"Our biggest audio room will be two-and-a-half times the size of our largest audio room today, and the bar will be three times the size of our current bar. We'll have more than 50 cutting rooms, four audio dub stages, a huge ADR room, four grading theatres and online suites. We're also looking to expand our Foley and sound design services at Ilona Rose House."
Once WBDLL moves into Ilona Rose House in 2021, it will close its Dean Street office, which has been open for almost half a century.
Sheppard says: "We love the building, but we're outgrowing it. In our new building, we've had the rare opportunity to design a post facility from scratch. Usually in Soho you're taking on an old building and have to make many compromises as a result.
"The space in Ilona Rose House is very flexible so we can create the exact spaces we're after. We don't have any legacy kit there, all our cable runs are new, it's all new storage and the building will open as a full 4K HDR facility in its entirety. We'll be dealing with huge amounts of media and are putting in many petabytes of storage."
"We're also putting daylight lighting in everywhere and have a big lightwell in the middle of the building, so it's going to be really bright and airy," she adds. "We're the anchor tenant there and have signed a very long lease on the building."