Digital agency expands onto new floor and invests to improve media workflows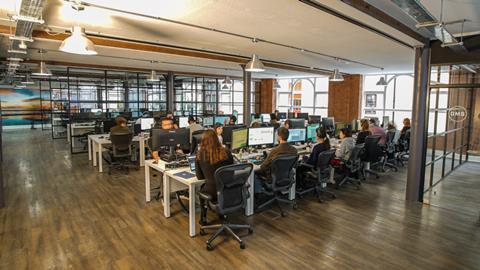 Digital agency DMS is expanding its London headquarters.
After moving in to a 8000sq. ft purpose-built site in January 2017, DMS is now taking on an extra floor in the building. This will add another 4000sq. ft of space that will house over 60 people in the London Bridge facility as part of a six-figure investment for the business.
The new floor will bring together DMS' content creation, editing, media intelligence and social media insights & analysis teams.
DMS' other two floors within Shand House will be dedicated to its transcreation & localisation, subtitling, asset management, distribution & syndication and secure streaming departments.
DMS has expanded from 85 to 140 employees in just two years.
A large part of the investment will go towards enhancing media workflows within the business.
This includes the integration of Telestream's automated Vidchecker QC software and Vantage media processing platform. These tools will help to speed up the overall production process.
A third audio suite running Avid Pro Tools will also be installed to help meet client demand, while more Adobe Premiere Pro CC, After Effects CC and Maxon Cinema 4D licenses are being added.
Alongside the London expansion, DMS is also taking on more people to work at its Los Angeles and Sydney offices as it further develops its operations in the NA, LATAM and APAC regions.
Simon Briggs, managing director of DMS said: "With data becoming essential to marketers as a way to better understand audience reaction and engagement and ultimately help them dictate campaign strategy, we're getting more demand for our integrated insights, campaign planning & management and content services.
Founded in 2002, DMS provides content production, management, localisation, distribution and media monitoring for global entertainment, arts and culture, lifestyle and sports brands.
Headquartered in London, with offices in Los Angeles and Sydney, DMS' clients include all the major feature film studios, leading film distributors, broadcasters, sports associations such as the NBA and brands like GQ.