Ted Ty joins as global head of character animation, while Archie Donato relocates from LA to London to work on a "major new project"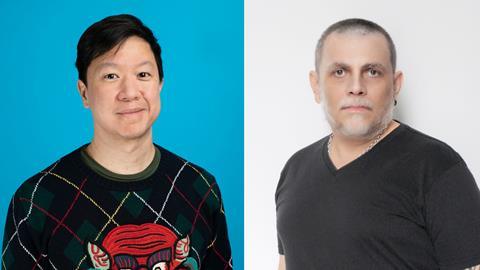 Dneg has appointed two new senior creative hires for its Feature Animation team. Ted Ty (pictured, left) joins as global head of character animation. He will be based in Montreal, while Archie Donato (pictured, right) relocates from LA to London as VFX supervisor on a "major new project".
Ty joins Dneg with 25 years of experience, having started his career at Walt Disney Animation where he worked as a 2D animator on animated features such as Mulan and Lilo & Stitch. Following a move to DreamWorks, he contributed to major 3D animated features including Puss in Boots, How To Train Your Dragon 2 and Rise of the Guardians.
His most recent work was as head of animation and co-director of animated action-comedy feature Fireheart.
Meanwhile, Donato has a background in live action filmmaking, as well as experience at ILM, Digital Domain, Rhythm & Hues and 17 at DreamWorks Animation. At DreamWorks, he was CG Lead on Kung Fu Panda, Megamind, Monsters vs Aliens and Shrek Forever After. He was also lighting supervisor on Rise of the Guardians and CG supervisor on Mr. Peabody & Sherman.
Most recently, Donato has been VFX superver on episodic TV content such as Home Before Dark for Apple TV+, Messiah for Netflix and The Loudest Voice for Showtime.
David Prescott, senior vice president of creative production, said: "I'm delighted to welcome Archie and Ted to the team. I've known, worked with and respected them both for many years, and they bring unique skillsets and experience to our senior creative leadership team."
Ty said: "I'm super excited to join a company that shares so many of my own beliefs. I'm bringing the best of my experiences from other studios to help create something unique at Dneg Feature Animation."
Donato said: "The fact that I packed up in LA and moved to London during a pandemic should be an indication of how excited I am to be joining Dneg Feature Animation. It's not just the major animated event release that I am supervising that attracted me to this role - it's also the opportunity to be part of a company that is well on its way to becoming a heavyweight player in the feature animation industry."
Dneg Feature Animation's Tom Jacomb added: "Our first feature animation project, Ron's Gone Wrong, is due for release later this year and we have three new projects in production and a number of others in the pipeline. Both Archie and Ted have a huge amount of experience and expertise, and they are going to play key roles in leading and inspiring our talented global teams."
Dneg Feature Animation is currently in productions including animated musical feature Under the Boardwalk for Paramount Animation, and an animated adaptation of The Great Gatsby with Oscar-winning director William Joyce.