In-house project was created by the VFX house during lockdown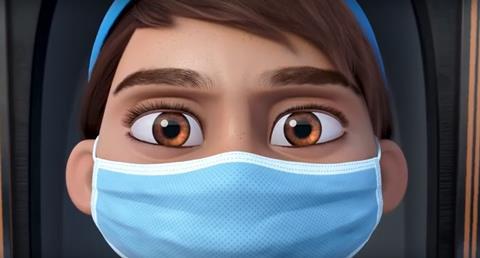 DNEG has created an animation called Thank you, Healthcare Workers, to highlight the crucial role healthcare workers are playing around the world during Covid-19.
The idea behind the short film is described below.
David Prescott, SVP creative production, DNEG Feature Animation:
"I woke one night with the feeling that we needed to say thank you in some way to healthcare workers. If we could find a vehicle where our team could rally together a little and feel proud of generating something to say thank you, so much the better. It is a small piece and a little gesture that we hope means a lot more. As part of DNEG Feature Animation's growth, we are encouraging more short ideas like these as a way to be both socially conscious and to encourage our incredible talent to stretch their legs."
"It was an honour to contribute music to the touching visuals the team at DNEG made to pay tribute to healthcare workers. 'The Last Post' is a piece of music that already has so much emotion and cultural significance as a tribute to sacrifice. It seemed fitting to use it as a musical framework to honour the nurses and doctors waging this frontline battle against Covid-19.
"So much of the suffering during this crisis has been out of sight of the general public, hidden behind hospital walls. Pieces like this are valuable to express our collective gratitude for the sacrifices healthcare workers have made to protect our society, but also to serve as a poignant reminder that this is an ongoing battle that is still being tirelessly fought by these nurses and doctors every day."
Thank you, Healthcare Workers Credits
Editor
Leanne Hayward
Technical Supervision
Paul Baaske
Pipeline
Joshua Deakin
Layout Supervisor
Hailey White
Modelling
Richard Burnside, Rayza Alvarez
Surfacing
Taylor Moll, Geraldine Gaston, Trevor Morgan, Jean-Charles Lusseau, Manoj Somanadhan
Animation
Colin McEvoy, Gwilym Morris
Rigging
Gabriele Pelligrini, Laura Trouche
Character Effects
Chris Kilshaw, Kristin Farrensteiner
Lighting
Pietro Materossi, Louise Chevrier
Production Manager
Laura M Meredith
Production Supervisor
Shelley Smith
Production Coordinators
Amber Corrick, Jessica Whittal-Williams
Musical Arrangement
Rob Wasilauski
Trumpet
Sam Ewens
Music Consultant
Mary Kirmo
President of DNeg Feature Animation
Tom Jacomb
Written and Directed by
David Prescot"