Company expands to the UK, offering bespoke driving plates with views out of cars driving through any location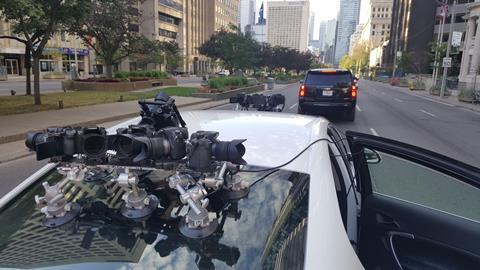 Driving footage company Driving Plates has expanded into the UK, offering stock driving footage and bespoke content in HD and 4K to TV, features and commercials clients.
The firm opened in America seven years ago, offering production-specific custom content, filmed on its patented car camera rig.
Up to nine cameras are used in the rig to capture 360-degree images from a single vehicle driving around any location.
As well as bespoke plates, it has a regularly updated stock footage library of driving plates, with 6,200 clips covering 16 countries and 80 cities.
The company's footage has been used in The Commuter, The Post, The Big Bang Theory, Grace and Frankie and Tom Clancy's Jack Ryan.
Driving Plates's UK team will be led by producer Ian Sharples who has more than 20 years of experience working in film and TV industry and won a BAFTA in 2007 for his work on Terry Pratchett's Hogfather.
Driving Plates CEO David Smith said: "Launching a UK division is a significant step in our expansion plans. It makes sense to open up an arm in the UK, a country which has such a rich history of providing world-class production services."
The firm's UK office's first project will be upcoming period drama The Song of Names, starring Tim Roth and Clive Owen.
Some footage of London, captured by Driving Plate's rig is shown below.