31 midweek fixtures set to be live streamed via digital platform iFollow at a cost of £10 per match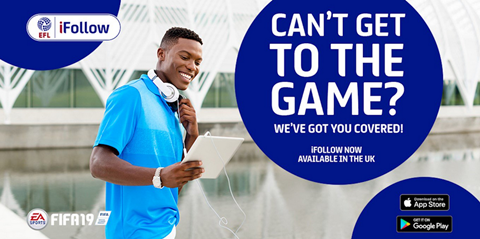 The English Football League is to live stream matches this week for the first time in the UK and Ireland.
31 midweek fixtures across the Championship, League One and League Two are set to be streamed via digital platform iFollow.
The games will cost fans £10 per match.
58 of 72 current EFL clubs have signed up to the iFollow platform.
The 14 EFL clubs not signed up to iFollow include Aston Vila, Bristol City, Derby County, Leeds United, Middlesborough, QPR and Sunderland. However, these clubs be able to deliver a similar service through their existing digital offerings.
A number of restrictions are in place about which matches can air online.
Matches played between 14:45 and 17:15 on Saturdays will be blocked from live streaming, as will those on Bank Holidays or those selected for broadcast on Sky Sports.
Overseas supporters have been able to stream every non-televised game online since the start of the 2017-18 season.