Post house hires five new recruits for advertising division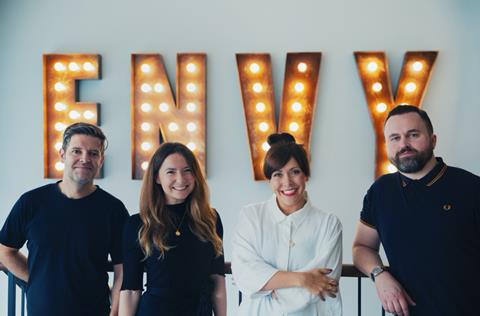 ENVY has hired five new members for its advertising team.
Jax Harney (second from right) has joined as senior colourist, having worked at boutique grading suite Cheat in east London, on campaigns for brands such as Toyota, Gucci, Peroni, BMW, Vans, Puma, NIKE, Adidas, Stella McCartney and Alexander McQueen.
Ross Culligan (far left) has been hired as an executive producer. He started his career at SVC, and progressed through the production departments of blue, Rushes, Prime Focus. Prior to his EP role at Envy, he was head of production at Unit. He has worked on global campaigns for Audi, Sky, Huawei and Barclaycard.
Rebecca Townsend (second from left) joins as a producer. She began her career in post at Gramercy Park Studios, starting in bookings before progressing to assistant producer. She has worked on projects such as Nike Football, Spotify, Jaguar, Crumpton Oaks and Checkatrade.
Bill Wright (far right) has been hired as a motion graphics designer. He has previously worked at Gramercy Park Studios, Fourleaf and The Farm.
Also among the new recruits, Tom Brewins has joined Envy Advertising as studio manager for the Envy Sound team. He joins from Grand Central Sound Studios and started his career as a runner at Envy many years ago .
Greg White, managing director of Envy Advertising, said: "Over the past few months we've added real quality to an already extremely talented team."