Graeme Hayes joins as senior colourist and Yiorgos Loizou as senior online editor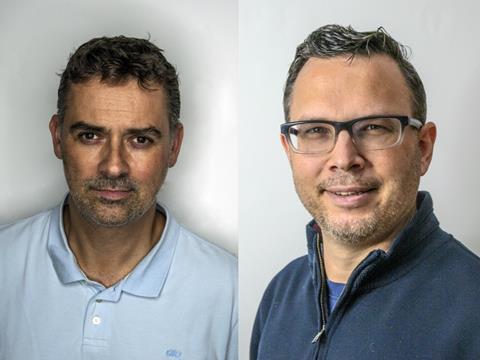 Post house Envy has made two senior hires, appointing Graeme Hayes as senior colourist and Yiorgos Loizou as senior online editor.
Hayes (pictured, above left) previously worked at Clear Cut Pictures and Blue/Prime Focus as a Senior Colourist. He has over 20 years of colour grading experience, with credits including Girl with a Pearl Earring, the first two series of The Great British Bake Off and seven series of The Great British Menu. More recently he graded BAFTA and Grierson nominated Superkids: Breaking Away from Care, BAFTA nominated Life and Death Row: The Mass Execution and one episode from the BAFTA winning series Louis Theroux's Altered States.
Loizou started his career as a runner at NATS Post Production before moving to Evolutions where he gained over seven years' experience as an Online Editor & Colourist. His credits include: 24 Hours in Police Custody, The Only Way Is Essex, Geordie Shore, Celebs Go Dating, Marigold on Tour, Treasure Island with Bear Grylls, Steph & Dom: Can Cannabis Save Our Son, and Bad Girls Behind
Envy CEO Dave Cadle said: "To have someone with Graeme's and Yiorgos's experience joining Envy is great as their dedication to giving clients the best grading and online editing experience is well known and backed up with a wealth of technical knowledge."
Meanwhile, Envy has also invested in cyber security platform Darktrace, which uses artificial intelligence to uncover cyber attacks within an organisation and neutralise them.
Envy CTO Daniel Sasson said: "Having dynamic and intelligent network protection is now a must and Darktrace are one of the leading providers. The integration process was seamless and Darktrace was fully operational within a few hours. With a permanent display set up to monitor threats and anomalies visually as well as receiving email alerts, Envy's engineering team are quickly notified of threats in real time when the AI detects behaviour as significantly anomalous."