The company has also invested in new Flame facilities as part of the drive to attract more high-end documentaries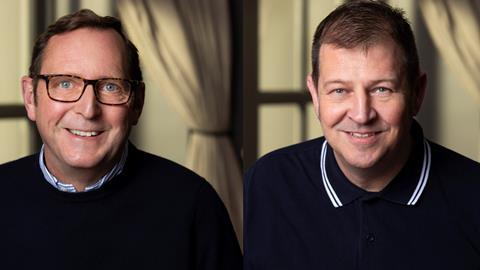 Evolutions has invested £200K expanding its Flame facilities and hiring three editors to bolster its offering for high-end documentary makers.
Former head of editing at Molinare, Des Murray (pictured above right), joins as senior Flame artist. His credits include Netflix's Don't F**k with Cats: Hunting an Internet Killer and Memories of a Murderer: The Nilson Tapes, as well as the BBC's The Trials of Oscar Pistorius and Football's Darkest Secret. Murray will be based at Evolutions' Sheraton Street Facility.
Evolutions has also taken on Laurence Thripp (pictured above left), who was previously senior online editor at Molinare. Thripp's work includes Prime Video's Uprising, the BBC's Louis Theroux: Shooting Joe Exotic and Sky Original's Queen of Speed.
Finally, Afzal Ali also joins Evolutions as an editor. Ali's credits include the BBC's Don't Tell The Bride, MasterChef and TLC's Most Extreme. Ali was freelance, and prior to that worked at Molinare.
High-end documentaries previously finished at Evolutions include BBC 1's Serengeti, BBC America's Meerkat Manor and Sky's Gangs of Baboon Falls.
Simon Kanjee, CEO of Evolutions, said: "We are thrilled to continue the expansion of our team with these incredible new additions. Our growth in high-end documentaries represents a new era for us at Evolutions, and we are proud to have such a strong line up of talent to kick-start this for us this year. In addition, our new Flame facilities are demonstrative of our commitment to our new talent and our continued development as an industry leading force in the post-production space."