Post-production firm's new facility will be based in Manchester city centre's ABC Buildings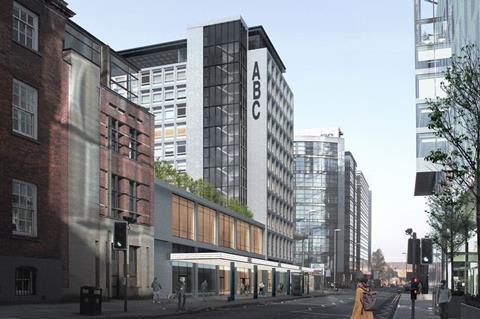 The Farm is to unveil what it claims is the biggest ever regional post-production facility launch in October, based on the first floor of the revamped ABC Buildings (pictured above) in the centre of Manchester.
The opening comes less than a year after The Farm announced plans to create a post operation in the city in December 2017.
The launch is a response to the expected growth in regional production as broadcasters respond to political and regulatory pressure to commission more outside of London. C4 has pledged to spend 50% of its budget out of London by 2023 and is soon to announce its new national HQ, with Greater Manchester one of the three contenders.
Farm Manchester's new home, ABC Buildings, is part of property developer Allied London's new development cluster in the St John's area of the city. Enterprise City has been conceived to house creative, tech and digital businesses. The ABC Buildings are a collection of 1960s office blocks that have been empty for nearly 10 years.
Other possible tenants in ABC Buildings are understood to include indies such as Endemol Shine North and Kudos North.
The Enterprise City development also includes All Studios, the firm bringing the iconic Granada Studios back to life as full-service studios.
Housed on a single 25,000 sq ft floor, Farm Manchester will host a 40-seat screening theatre and a roof terrace above the facility for use by clients.
The facility will be fully 4K/UHD, SDR/HDR and Dolby Vision capable, and will also offer Dolby Atmos.
There are 17 Avid offline suites, four finishing suites (Avid/Flame), VFX suites (Nuke, Maya, Cinema 4D, Adobe), a Nucoda grading suite and four Pro Tools audio suites. Elsewhere, the facility has tracklay suites, VO booths, QC and mastering suites. Two 10GB fibre lines also connect the facility with other Farm bases in London, Los Angeles, Bristol and beyond.
Farm Manchester is run by managing director Paul Austin, the former head of post-production at Dock 10 in Salford, and will employ 25 staff come October.
Among them will be senior editor Dan Evans, who has been with The Farm for 20 years, as well as senior dubbing mixers Mark Briscoe and Paul Harrison. Mark Ryder, who trained at The Farm, also joins as a dubbing mixer, as does Jordan Laughlin, who has moved to the city from London. Alex Howells is online editor, while creative director Matt Richardson joined from Studio Liddell.
Farm Manchester has been operating since May, based at a temporary office in The Riverside Facility while work is completed on the ABC Buildings. It has 12 offline suites, two onlines, grading and audio capability.
Farm Manchester is currently working on the next series of Ambulance for Dragonfly, series seven of The Real Housewives Of Cheshire for Monkey, as well as Stellify's Win Your Wishlist.
The facility will be the first major post house to open in central Manchester since the demise of Sumners. It closed in 2014 but was once one of the biggest post-production companies outside of London. Most post houses in the area are based in MediaCityUK in Salford, including Flix, Core, Dock 10 and Timeline.
Natural choice
Austin said Manchester was the natural choice for the Farm Group to launch a new regional facility, citing the launch of All Studios and the fact that broadcasters and indies are looking to do more work in the regions.
"We saw it as an opportunity to fill a gap in the market. There is no major broadcast post-production facility based in the city centre, which seems crazy based on so much production activity and demand," he said.
Austin added that there is also a booming commercials and agency sector in Manchester, with many having to go to London for their post because of the lack of a leading boutique facility in the city centre.
"Farm Manchester is going to change the creative landscape immeasurably. We want to be at the forefront of our industry's drive to make world-class content in the regions with true local talent."
Monkey managing director Samantha Lawrence said she hopes the move will help to attract more talent to the region: "We are thrilled The Farm is opening a post-production facility in the heart of where we make The Real Housewives Of Cheshire. Monkey is incredibly supportive of the continuing expansion of television studios and facilities outside of London, which truly reflects the regional diversity of our programme-making."
Launched in Soho in 1998, The Farm is one of the UK's leading post houses, employing 350 people.