Facility has two 20,000 sq ft units for TV and film projects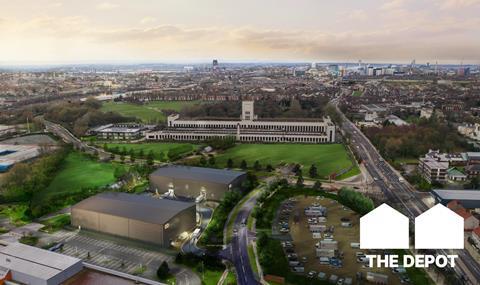 Liverpool City Council is opening a temporary film and TV shoot space called The Depot, on a former bus site for Merseyside Transport.
Morgan Sindall Construction is building the facility, and has already completed the "topping out" of the two 20,000 sq ft units.
The Depot is adjacent to the Littlewoods Building, off Edge Lane – a 10-minute drive from the city centre and the M62. It's a temporary facility to capitalise on the current demand for studio space until the nearby Littlewoods studios scheme is complete.
The construction of the complex is one of the major projects earmarked in Liverpool's Recovery Plan to stimulate the city's post-pandemic economy. It's predicted The Depot will create a £24m economic boost for the regional economy, creating 360 new jobs and 760 indirect jobs. The Depot will be operational by Summer 2021.
Liverpool City Council's development team and film office are overseeing the scheme, and the film office is currently in talks with major global production over use of the space.
Productions including ITV's remake of The Ipcress File; BBC's Peaky Blinders; and The Responder starring Martin Freeman are being shot in Liverpool at the moment, while Warner Bros' The Batman; Netflix's The Irregulars; Channel 4's Help; BBC's Time; and Sky's COBRA and Tin Star: Liverpool were all shot in the city.
Acting Mayor of Liverpool, councillor Wendy Simon, said: "The topping out of The Depot is an exciting moment in the journey to realising Liverpool's ambition to be a 24/7 film city. There's already a huge amount of interest to book these studios, which underlines their value, but they will also prove to be a fabulous asset for training and nurturing talent in Liverpool."
Steve Rotheram, metro mayor of the Liverpool City Region, added: "I've long said our region is the country's creative capital and we're investing to make sure it stays that way. We've approved investment of £17m to support the new shoot space, along with the Littlewood Film and TV studios and it's fantastic to see the new production facilities topped out.
Richard Potts, area director for Morgan Sindall Construction, said: "Liverpool's magnificent architecture means it has long attracted film and TV productions from all over the world. Now, with The Depot the city will be even more attractive to the creative industries, resulting in significant investment and the opportunity to create valuable jobs for local people."