Additions include the Canon CJ24, CJ45 and large UJ90 UHD Digisuper lenses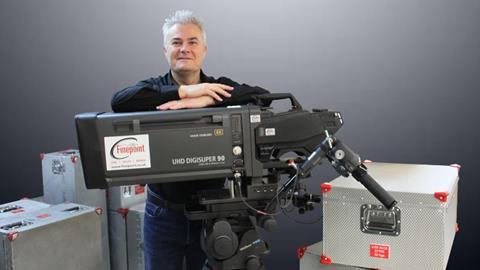 Hire firm Finepoint Broadcast has added to the range of Canon lenses in its portfolio.
The additions include the standard Canon CJ24, plus the Canon CJ45 and large UJ90 UHD Digisuper lenses.
Finepoint Broadcast chief engineer Andrew Mckenzie said: "The Canon CJ24 is an acclaimed telephoto lens with a 24x broadcast zoom and a focal length of 7.5-180mm that offers 4K performance that is ideal for on-the-shoulder newsgathering. The ultra-high zoom CJ45 is packed with innovative, class-leading technology that is perfectly suited to wildlife and live-sport deployments.
And with a 90x zoom, 9-810mm focal length, and image stabilisation that's fully compatible with 2/3" 4K cameras and broadcast environments where HDTV is currently in use, the Canon UHD Digisuper 90 lens is perfect for expanding Finepoint Broadcast's 4K lens range."
Canon lenses have improved their built-in stabilisation techniques to help overcome camera shake at extended focal lengths, which is increasingly important at 4K resolutions and beyond.
Finepoint Broadcast hire manager Clive Northen said: "We've made this significant investment not only to even better serve our existing, loyal client base, but to ensure we are ahead of the game for 2020, which will be saturated with major sporting events of global interest, for which we and our customers will be ready.