Post house offers HDR finishing up to 3,000 nits.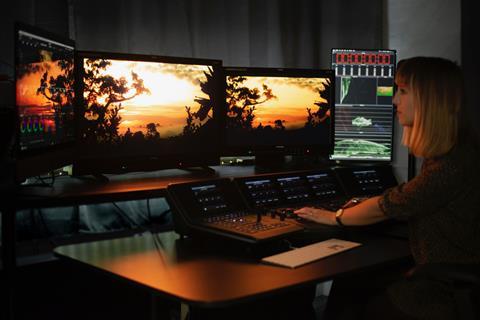 Post-production facility The Finish Line has become one of the first UK facilities to provide HDR grading services up to 3,000 nits.
Most post houses have 1,000 nit HDR reference monitors, but The Finish Line has invested in a Flanders Scientific XM310K reference display, which qualifies as a Dolby Vision mastering monitor, with a peak luminance of 3,000 nits.
The monitor has a list price of €39,995 (£35,450).
The Finish Line founder Zeb Chadfield (pictured in the HDR suite below) told Broadcast: "We wanted to invest in the best HDR monitor we could get, for working with SVODs such as Netflix. The ultimate HDR reference display is the Dolby Pulsar, which is 4,000 nits, so we looked for something as close to that as we could find.
"Luminance of 3,000 nits gives us the ability to display things that will continue to look incredible on future TVs, giving it a greater life. This is the best HDR experience and shows detail in the whites that would be blown out at 1,000 nits.
"Netflix wants to make evergreen content and for it to always be the best it will be, and we can now enable that with our HDR finishing."
The Finish Line is making its 3,000 nit HDR grading service available through its post-production partner Vaudeville, which also provides Dolby Atmos immersive audio mixes.