Virtual reality projects selected from a shortlist of 20 by Digital Catapult and Arts Council England programme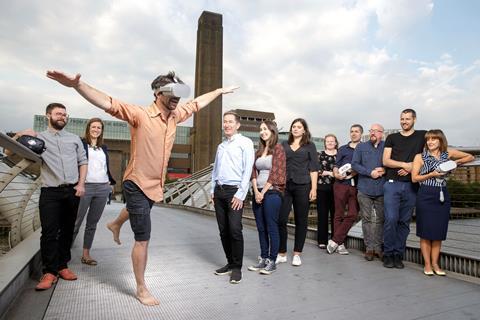 Five VR projects are to share £350,000 in funding from Creative XR, a Digital Catapult and Arts Council England programme that supports the development of virtual reality (VR) and augmented reality (AR) products for the creative industries.
The five projects have been selected from a first round which saw 20 teams develop prototypes.
The successful projects all use immersive technologies, combined with a range of traditional storytelling techniques such as documentary, poetry and theatre.
The funded projects are:
- Fatherland by Limbik, Norwich & Portsmouth: An interactive theatre experience using real-time motion capture and VR technology that brings to life the journey of a son and father coming to terms with dementia and disembodiment in a modern world. Completed in partnership with University of Portsmouth and The National Theatre
- Immersive Histories by All Seeing Eye, Stroud: An immersive VR experience allowing an audience to physically step into history and experience the famous 'Dambusters' mission from on board Guy Gibson's Lancaster. Completed with support from Other Set and the RAF Museum
- Municipal Dreams (working title) by VR City, London: An immersive journey into the complicated history of the notorious Aylesbury Estate, using stereoscopic 360 video, photogrammetry and 3D modelling. Completed with support from Royal Holloway University, Creation Trust and IDFA
- Traitor by Pilot Theatre, York: A two-player interactive high stakes thriller, combining VR with live action, completed with support from Pilot Theatre
- When Something Happens by Boom Clap Play, Belfast: An epic journey through the history of the cosmos – from the big bang to modern life – written and narrated by poet Boston Williams. Completed with support from Northern Ireland Screen and Northern Ireland Science Festival
The funding provided by the programme is designed to support the UK's VR industry, which is expected to grow by 76% to reach £801m by 2021.
Digital Catapult CEO Jeremy Silver said: "The value of taking these projects to full production will be both in surfacing new creative approaches and ways of working, but also in stimulating commissioners and giving confidence to investors in this new medium, where the UK has such world leading strengths."
Over 1,000 teams registered their interest in CreativeXR when the programme launched last October, with 250 submitting proposals for the Open Call. This pool was narrowed to a final group of 20 invited to showcase their projects to partners including Google, BBC and Sky.
The programme has been developed by Digital Catapult and Arts Council England with support from Innovate UK, and in association with Immerse UK.