The global VFX house promises a fresh approach to how a VFX company can operate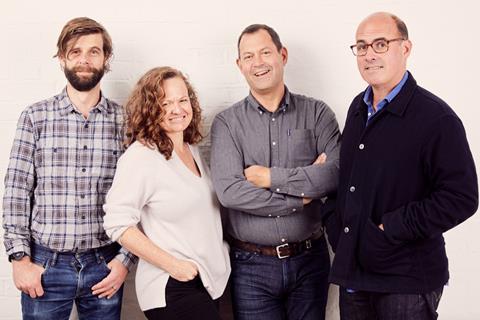 A team of former co-founders and execs at VFX giant DNEG has set up a new VFX company, beloFX.
beloFX has been created by DNEG co-founders Alex Hope and Matt Holben; former DNEG COO Ellen Walder; and former DNEG CTO Graham Jack, and is backed by leading creative industry entrepreneur, Elisabeth Murdoch.
The company is opening in the UK, and in Canadian territories, British Columbia and Quebec, and will be based around the concept of distributed working, enabling artists to work from home.
Jack explains: "Our focus is on talent and technology. Without legacy to hold us back we can completely re-imagine the VFX pipeline. We are uniquely placed to incorporate game engines at a fundamental level. Real-time technology is just the beginning. There are a whole range of exciting technologies that we have been exploring and are looking forward to exploiting as we lead the fundamental change that our industry is poised to make."
The beloFX team includes director of operations, Hannah Cook and managing director for VFX, Matt Plummer, who will lead the VFX team alongside VFX supervisors Joel Green and Mike Brazelton (who will join the company in early 2022).
Murdoch said: "From personal experience, Matt, Alex, Ellen and Graham have a deeply held commitment to creativity and innovation which are critical to delivering exceptional partnerships with the world's greatest film and television talent. I couldn't be more privileged to be at the start of this revolutionary new company with them all."
Green added: "We are focused on a more efficient and responsive way of working, collaborating with our clients early and at all stages of the process. We aim to offer the most creatively rewarding experience for filmmakers and for all the talent working at beloFX."
Alex Hope, said: "I loved working with this group of people for so many years at DNEG and I'm excited to have a fresh start with a fresh approach to how a vfx company can operate."
Cook adds: "We want to work with talented people who love what they do and we want to have fun doing it. beloFX embodies the belief that diversity and inclusion are integral to creativity and innovation. We have many ideas and ambitions to support our commitment to a diverse work culture that we look forward to sharing in the coming months."
Walder says: "We are focused on creating a company for the future that is based on integrity, one that is genuinely forward-thinking, open-minded, and fully inclusive. A remote-first structure combined with advances in collaboration tools leads to far greater communication and breaks down traditional hierarchies. This combined with our ambitions for education and training sets beloFX apart."
PICTURED ABOVE (left to right): Graham Jack, Ellen Walder, Matt Holben, Alex Hope