Five awards for GoT including best photoreal episode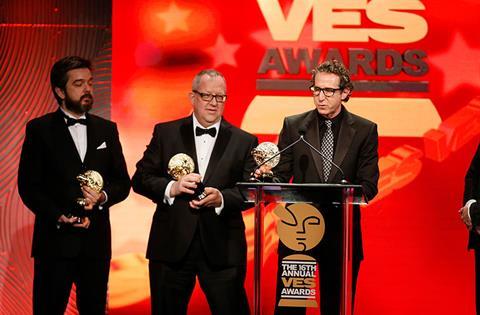 Games of Thrones was the big winner at last night's Visual Effects Society (VES) Awards in Beverly Hills, picking up the gong for the best photoreal episode and garnering five awards in total, the most wins of any show or film.
Joe Bauer, Steve Kullback and David Ramos (all pictured) and Chris Baird and Sam Conway were honoured in the Outstanding Visual Effects in a Photoreal Episode category for Game of Thrones; Beyond the Wall, the penultimate episode from series seven.
The smash HBO series also won for: Outstanding Animated Character in an Episode or Real-Time Project; Outstanding Created Environment in an Episode, Commercial, or Real-Time Project; Outstanding Effects Simulations in an Episode, Commercial, or Real-Time Project; and Outstanding Compositing in a Photoreal Episode.
The companies that produced the VFX for series seven were El Ranchito, Iloura, Image Engine, Mackevision, Pixomondo, Rhythm & Hues, Rodeo FX, Weta Digital and Zoic Studios.
The Award for Outstanding Virtual Cinematography in a Photoreal Feature went to Guardians of the Galaxy Vol. 2 for Groot Dance/Opening Fight. London's Framestore was one of the VFX companies that worked on that film and was influential in the making of that sequence.
Also on the night, the president of Marvel Studios Kevin Feige presented a VES Lifetime Achievement Award to producer, writer and director Jon Favreau.
The VES Awards recognise outstanding visual effects artistry and innovation in film, animation, television, commercials, video games and special venues.
The 16th Annual VES Awards Ceremony took place on Tuesday, 13 February 13 at The Beverly Hilton Hotel in Beverly Hills, California.