Coverage for new Foxtel 4K channel marks the first time an Australian sporting event has been televised live in 4K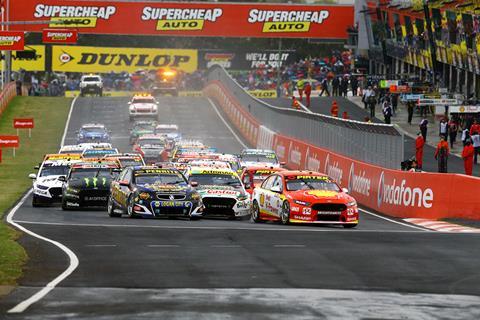 Gearhouse Broadcast has delivered live 4K coverage of the Supercheap Auto Bathurst 1000 for Supercars in Australia.
It's the first time an Australian sporting event has been televised live in 4K, and was used to launch Foxtel's new 4K channel, 444.
The 161-lap endurance race was solely captured and delivered by Gearhouse Broadcast, which provided all the facilities, equipment and outside broadcast trucks onsite at the Mount Panorama Circuit.
The race is a 1000-kilometre V8 supercar competition held annually in Bathurst, New South Wales, Australia.
Twenty-six Sony HDC-4300 and one Sony HDC-P43 were deployed around the track, while Sony's HDC-4800 slow motion camera was used at the event to capture the action in even greater detail.
This brought a total of 28 native 4K broadcast cameras. Then there were an additional 56 HD sources (specialty track cameras, pit cameras, Heli, CamCat – hi speed rail cam system - and all the traditional EVS output channels), that were up-scaled through the 4K VMU. This amounte to a total of 83 sources available to the 4K director.
Gravity Media CEO John Newton said: "In the last few years, Gearhouse has invested heavily in the latest 4K production equipment and has been involved in numerous live 4K productions around the world."
Following its Supercheap Auto Bathurst 1000 launch, Foxtel 4K will showcase 4K content including movies, documentaries, concerts and live sport, starting with select events from Supercheap Auto Bathurst 1000.