The 50-seat office in Holborn will be open before the end of this month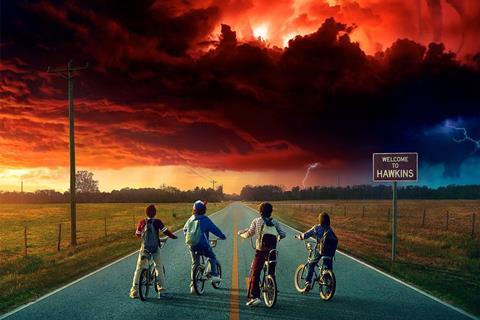 German VFX house Rise is opening an office in Holborn, London, which is expected to be open later this month.
The studio will include a screening room; conference room; space for 50 artists and editorial; and, slightly bizarrely, "a traditional British pub for a pint after work as an homage to the early days of VFX in Soho," says Rise.
The company's offices in Germany – in Berlin, Cologne, Munich and Stuttgart – house 280 artists in total, and has worked on Captain America, Matthew Vaughn's The King's Man, HBO's Westworld and Lovecraft Country as well as Netflix's Stranger Things (pictured).
The London operations will be helmed by managing director Lara Lom. She said: "There has never been a better time than the latter half of 2020 to expand the Rise brand to Great Britain. Obviously, the market has taken a hit from film shoots being put on hold due to the Covid-19 pandemic. But, at the same time, the entire film industry is looking to the visual effects companies to help them re-boot the business as we know it, whilst maintaining the highest safety standards for the crews.
"London is home to the most diverse of creative talent in the world. It has such a rich filmmaking culture, having always been at the forefront of developments and often even predicting the future of where the industry is heading."
Rise co-founder Florian Gellinger, adds: "We are very excited about having Lara on board. London was always the place we were dreaming of having a space for gathering talent and to create an environment for creative discussions. The VFX studios and facilities in London are the best in the world and we've been inspired by their work since we started Rise. We would be thrilled to be collaborating with them on some very exciting projects in the near future".