The space is targetting small to medium size film and TV projects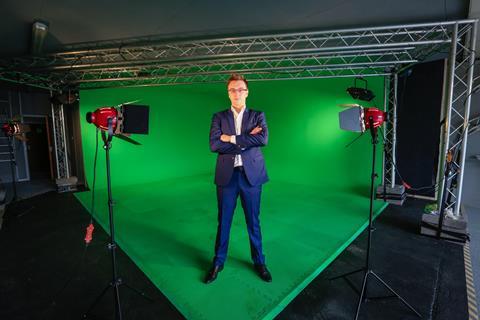 Apex Studios, a 100 sq m green screen space, has opened in Hampshire, in an attempt to try to attract film and TV work to the area.
The studios were created by 21-year-old Ben Joel (pictured above), whose background includes working as a runner on film sets and doing 'minor level' stunt acting.
The space, which is available for dry hire '24/7', is 65 miles out of central London at The Old Hambledon Racecourse Centre near Droxford.
Joel said: "Film production in the UK has nearly tripled over the last 10 years and London studios offering green screens for digital overlays and CGIs are being block-booked. The severe shortage of facilities means film companies are having to look at smaller spaces elsewhere. People I know in the film industry have confirmed the supply of green screen studios is not keeping up with demand."
"We have been meticulous in learning everything we can about green screen technology and rolling that knowledge into making the facility the best it can be," he adds.
There is no rate card listed for renting the space – prices and day rates are available on request.
Key features
Fully configurable green screen infinity cyclorama studio space
Halogen and fluorescent lighting (plus stands if required) available
Single phase and three phase power available
Sound room with interconnection snake available
100 sq m working area with large roller door access
Production office/meeting room
Artist changing and make-up room
Kitchen and refreshments – outside catering available
Ample parking
Secure location - nearby luxury accommodation
Three-point lighting available
Fast Access to equipment hire facilities
24/7 operational hours available